Did The Kardashians Fake Footage From Dubai? The Internet Says 'Come On, Seriously?'
On January 8th, Kris Humphries, the former husband of reality star Kim Kardashian, shared a cryptic Tweet about his ex-wife's show, invoking the FCC. "I can't wait for the truth to come out!" he wrote. "People will be surprised or maybe they won't. #FCC." Hashtag: #DRAMA!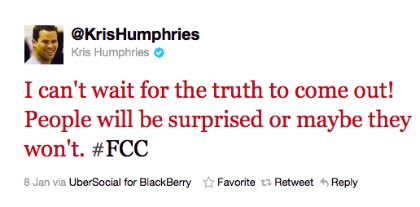 Then, over the weekend, photos were published online showing Kardashian and her "momager," Kris Jenner, leaving a studio in Los Angeles on December 6th. Kim is seen wearing the same clothing, hairstyle and makeup she had during a portion of the episode her ex Tweeted about — an episode that was, allegedly, filmed in Dubai last October. In the photos, Jenner is also seen being followed by someone holding a purple caftan that looks very much like the one she wears in that same episode of Kourtney and Kim Take New York (and a little bit of Dubai).
In the episode, Kardashian and Jenner are seen seated in a car with windows either blacked out or tinted so that the outside is not visible. Kardashian confides in her mother that things are strained in (what was, at the time) her new marriage, prompting Jenner to explain that her feelings aren't "normal" at this point in the relationship.
Here are images of the E! scene in question alongside the photos taken in LA, via RealityTea: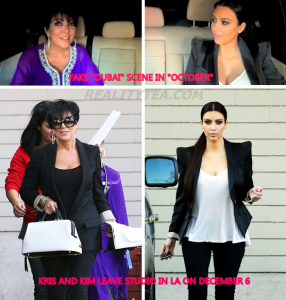 Have a look at the scene in question, via E:
While the FCC doesn't have any jurisdiction over how "real" a cable TV reality show has to be (sorry, K-Hump), it does bring up good questions about the reality genre — mainly, does anyone, from its producers to its stars to its viewers, expect this show to be real? Except, maybe, an angry ex-husband worried about what this means for his public image.
h/t RealityTea
Have a tip we should know? tips@mediaite.com