Dinesh D'Souza Takes Aim at Preet Bharara in Wild Post-Pardon Tweets: 'KARMA IS A BITCH'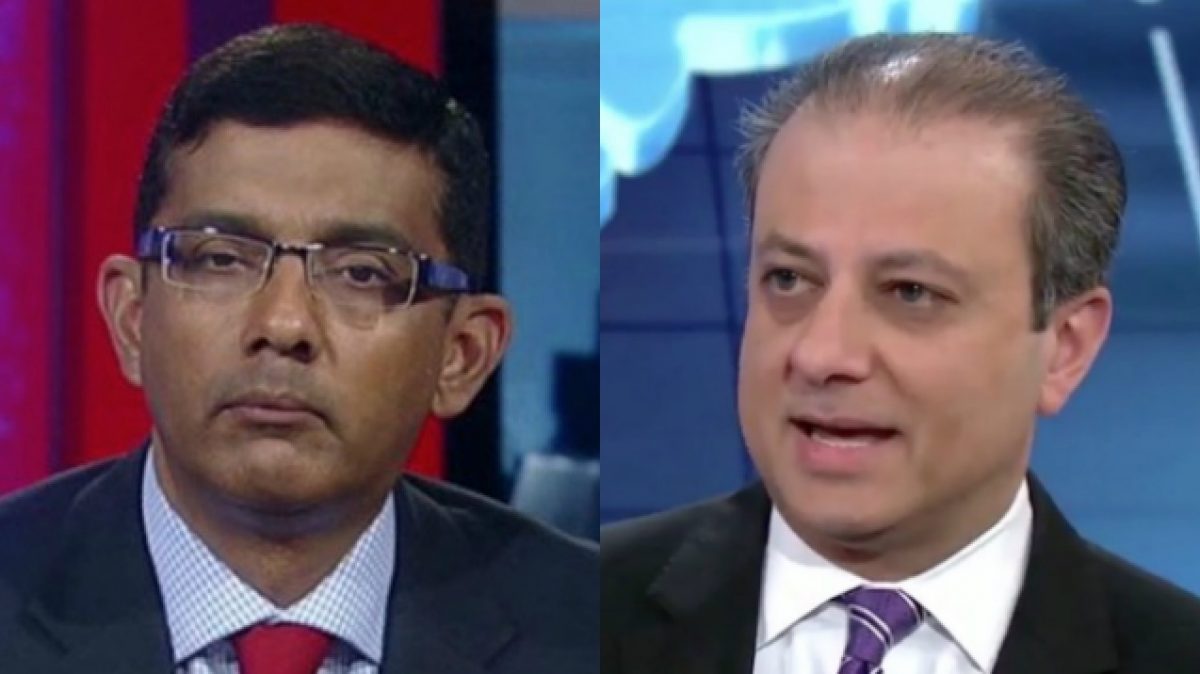 Dinesh D'Souza is holding an online victory dance in light of President Donald Trump's announcement that he will be granted clemency.
The conservative filmmaker/internet troll will be pardoned after previously pleading guilty to using straw donors to make illegal financial contributions to Wendy Long's unsuccessful senate campaign. D'Souza, undoubtedly delighted by today's news, is sharing his celebrations with the Twitterverse.
Obama & his stooges tried to extinguish my American dream & destroy my faith in America. Thank you @realDonaldTrump for fully restoring both

— Dinesh D'Souza (@DineshDSouza) May 31, 2018
My heartfelt thanks to those who prayed for me, supported me & reached out on social media to President Trump to pardon me

— Dinesh D'Souza (@DineshDSouza) May 31, 2018
The news of D'Souza's pardon prompted a ton of response on Twitter — not the least of which came from former U.S. Attorney Preet Bharara. Bharara — whose office prosecuted D'Souza in 2012 — offered this reaction to the new developments:
The President has the right to pardon but the facts are these: D'Souza intentionally broke the law, voluntarily pled guilty, apologized for his conduct & the judge found no unfairness. The career prosecutors and agents did their job. Period. https://t.co/bA3I8vs4QQ via @politico

— Preet Bharara (@PreetBharara) May 31, 2018
D'Souza noticed Bharara's tweet, so now he's taunting Bharara over his reversal of fortune.
Bharara & his goons bludgeoned me into the plea by threatening to add a second redundant charge carrying a prison term of FIVE YEARS https://t.co/5Z4UjWaHtF

— Dinesh D'Souza (@DineshDSouza) May 31, 2018
KARMA IS A BITCH DEPT: @PreetBharara wanted to destroy a fellow Indian American to advance his career. Then he got fired & I got pardoned

— Dinesh D'Souza (@DineshDSouza) May 31, 2018
[Image via screengrab]
— —
>> Follow Ken Meyer (@KenMeyer91) on Twitter
Have a tip we should know? tips@mediaite.com