Does Ted Cruz Really Think He Can Talk About a Gay 'Jihad' and Still be President?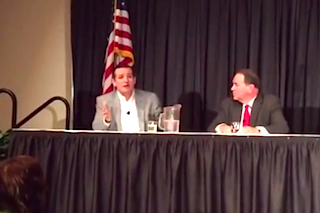 Over the course of America's recent debate on "religious freedom" laws, most potential Republican candidates for president were hesitant to come down too hard in either direction. Jeb Bush appeared to shift his position on the issue and Sen. Rand Paul (R-KY) more or less ignored it. But not Ted Cruz.
The Texas Republican and first-declared GOP presidential candidate is still speaking out strongly in favor of the laws that many believe would have sanctioned discrimination, even after the governors of Indiana and Arkansas were forced to demand changes to prevent such an outcome. And on Thursday, at a presidential candidate forum in Iowa, Cruz took his rhetoric to the next level, accusing gay rights groups of waging "jihad" against Christians.
"We look at the jihad that is being waged right now in Indiana and Arkansas, going after people of faith who respect the Biblical teaching that marriage is the union of one man and one woman," Cruz said, with Mike Huckabee seated at his side. "We need to bring people together to the religious liberty values that built this country," he said, harkening back to the time that Democrats and Republicans agreed on these issues.
"This election needs to be about bringing together that consensus again, and that's got to come from the people," Cruz declared.
But when it comes to the issue of same-sex marriage and discrimination against the LGBT community, the "consensus" is on the other side. A Wall Street Journal/NBC News poll released last month showed that a record 59% of Americans support same-sex marriage. And it is quite likely that the Supreme Court will make gay marriage legal nationwide in the coming months.
Comparing gay rights activists to Muslim extremists might play well at a meeting of the Network of Iowa Christian Home Educators and could even help Cruz win some key Republican primaries. But does he really think that this type of talk is going to lead to him becoming president of the United States?
Watch video below, via RWW:
[Photo via screengrab]
— —
>> Follow Matt Wilstein (@TheMattWilstein) on Twitter
Have a tip we should know? tips@mediaite.com