Don Jr. and Senior HUD Official Mock Kavanaugh Sexual Assault Allegations on Instagram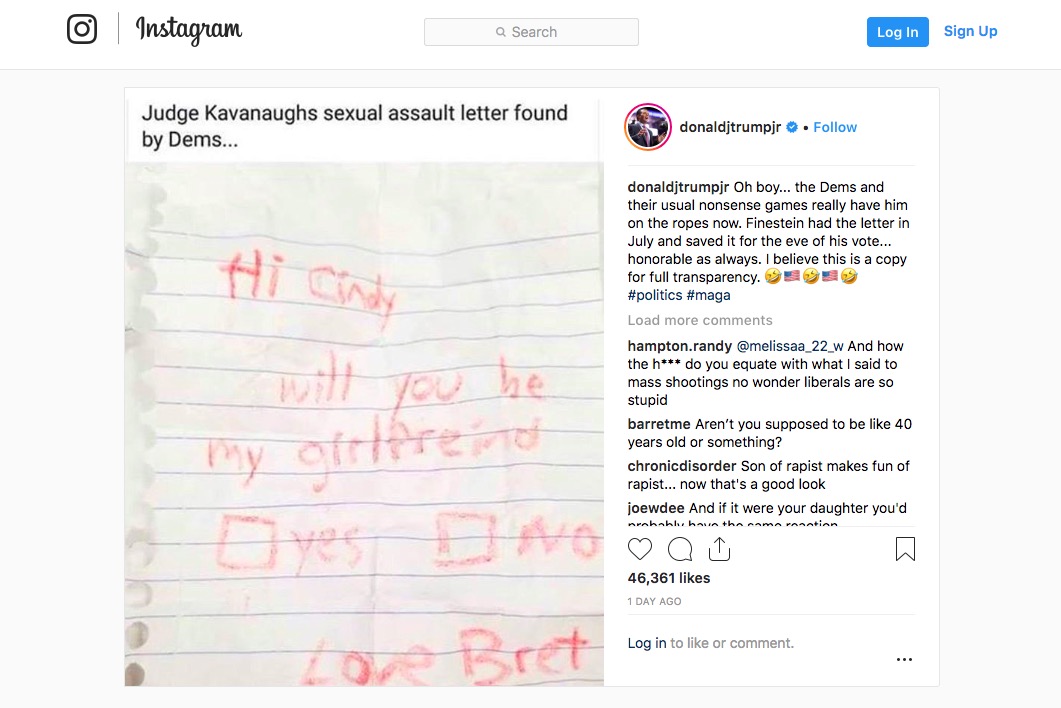 Donald Trump Jr. mocked Supreme Court justice nominee Brett Kavanaugh's sexual assault accuser in an Instagram post, calling her allegations "nonsense games."
"Oh boy… the Dems and their usual nonsense games really have him on the ropes now," Trump Jr. wrote in the caption. "Finestein had the letter in July and saved it for the eve of his vote… honorable as always. I believe this is a copy for full transparency."
He finished the post with a Make America Great Again hashtag.
The picture compared the allegations that Kavanaugh attempted to rape Christine Blasey Ford in high school to a satirical hand written note in-which a teenage Kavanaugh asks someone to be his girlfriend.
Lynne Patton, a senior HUD official, responded to the post with with a laughing face and person raising hands emojis.
I didn't think this was real. The president's son posted this on Instagram yesterday. The "??" comment at the bottom is from senior HUD official @LynnePattonHUD. pic.twitter.com/nzRqMN0sIG

— andrew kaczynski? (@KFILE) September 17, 2018
Since the initial allegations circulated, Ford has publicly discussed her claims, telling the Washington Post that Kavanaugh "groped her over her clothes, grinding his body against hers and clumsily attempting to pull off her one-piece bathing suit and the clothing she wore over it."
Patton released a statement on Monday defending her comment on Instagram:
This was not an attempt to diminish sexual assault. To the contrary, my post was in response to the hypocrisy highlighted by @DonaldJTrumpJr inasmuch that @SenFeinstein concealed Ms. Ford's letter for 2 mos, releasing it only when the timing best suited her own. True exploitation pic.twitter.com/jM4CEWHek4

— ?? Lynne Patton (@LynnePatton) September 17, 2018
Since posting the photo, Trump Jr. liked a since-deleted tweet calling the Kavanaugh allegations a "lynching."
The president's son just liked a tweet referring to the Kavanaugh episode as a MeToo "lynching" pic.twitter.com/7Pl4UyvJDp

— Kyle Cheney (@kyledcheney) September 17, 2018
[image via screengrab]
Follow the author on Twitter (@calebecarma).
Have a tip we should know? tips@mediaite.com