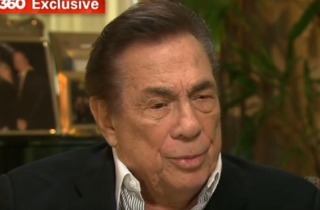 In a statement released on Friday, LA Clippers owner Donald Sterling's wife Shelly Sterling announced that she planned to sell the team to former Microsoft CEO Steve Ballmer for $2 billion. "Shelly Sterling was acting under her authority as the sole trustee of the Sterling Family Trust which owns the Clippers," a news release issued on Thursday read.
"I am delighted that we are selling the team to Steve, who will be a terrific owner," Shelly Sterling said in a statement. "We have worked for 33 years to build the Clippers into a premiere NBA franchise. I am confident that Steve will take the team to new levels of success."
According to a USA Today repot, Sterling "has been determined to be mentally unfit to make decisions related to the family trust" and will be unable to contest the sale. Sterling reportedly authorized his wife in writing to sell the team on his behalf, but his attorney claimed this week that the NBA owner wanted to rescind that authorization.
RELATED: NY Times Buries The Lede: Anderson Cooper's Ratings Surge At 8PM
"I will be honored to have my name submitted to the NBA Board of Governors for approval as the next owner of the Los Angeles Clippers," Ballmer, the team's likely new owner, said in a statement. "I love basketball. And I intend to do everything in my power to ensure that the Clippers continue to win – and win big – in Los Angeles."
UPDATE: Via ESPN, on Sterling's condition:
The Sterling family trust, which owned the Clippers, had rules and guidelines regarding mental incapacitation, sources told Shelburne and ESPN.com's Darren Rovell. Very recently, sources said, Donald Sterling was found by experts to be incapacitated. His wife Shelly Sterling then became the sole trustee and had the power to deal directly with Ballmer, according to sources. The $2 billion agreement was signed Thursday afternoon and sent directly to the NBA for approval.
[Image via screengrab]
— —
>> Follow Noah Rothman (@NoahCRothman) on Twitter
Have a tip we should know? tips@mediaite.com