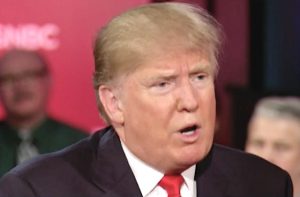 A lot of people feel they have a lot to lose during a Donald Trump presidency. But it's not just limited to people, people. Inanimate objects also need to be worried. The objects most in danger are, of course, tents. Poor, innocent tents. Because President-Elect Donald Trump hates tents, and has a well-documented history of bashing tents every chance he gets.
Eater's Helen Rosner did a deep-dive into Trump's tent-hating, and uncovered a storied and colorful history. One thing is clear- there will be no White House dinners of any kind in a tent over the next four year. There will, however be many many events in ballrooms. The only thing Trump loves as much as he hates tents is ballrooms.  Donald Trump believes Donald Trump has a knack for ballrooms. He continued, "If there's one thing I know how to build, it's a grand ballroom. At my private Mar-a-Lago Club in Palm Beach, Florida, I built what many consider to be the single greatest ballroom in the world … but I own many beautiful and very successful ballrooms."
President Barack Obama held a State Dinner in 2009 honoring the Indian Prime Minister and his wife. It was held in a tent that Vanity Fair said was "actually a massive pavilion, complete with an orchestra platform, theatrical lighting, a professional sound system, full heating, satellite kitchens, and a dozen chandeliers bedecked with sustainably harvested magnolia branches and ivy." Colin Powell's wife, Alma Powell said, "I've never been to a more beautiful White House dinner."
Trump had different feelings. He told Rush Limbaugh, "I see that the White House — the White House, Washington, DC — when a dignitary comes in from India, from anywhere, they open up a tent. They have a tent. A tent! … An old, rotten tent that frankly they probably rented, pay a guy millions of dollars for it even though it's worth about $2, okay?"
[H/T Eater]
[image via screen grab]
Follow Dana Eisenberg on Twitter.
Have a tip we should know? tips@mediaite.com