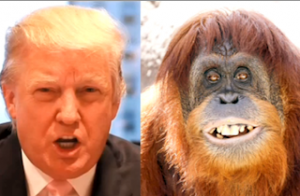 On Monday night, Bill Maher offered Donald Trump $5 million towards a charity of his choice if he could prove he's not the "spawn of his mother having sex with orangutan." And now, Trump is ready to collect.
Unlike President Obama, who completely ignored Trump's $5 million deal back in October, Trump wants Maher to pay up. In a letter "obtained by Yahoo News", Trump's lawyer accepted Maher's offer on behalf of his client and reportedly included a copy of Trump's birth certificate.
January 8, 2013

Mr. Bill Maher

Real Time with Bill Maher
CBS Studios
7800 Beverly Boulevard
Los Angeles, CA 90036

Dear Mr. Maher:

I represent Mr. Donald J. Trump. I write on his behalf to accept your offer (made during the Jay Leno Show on January 7, 2013) that Mr. Trump prove he is not the "spawn of his mother having sex with an orangutan."

Attached hereto is a copy of Mr. Trump's birth certificate, demonstrating that he is the son of Fred Trump, not an orangutan. Please remit the $5 million to Mr. Trump immediately and he will ensure that the money be donated to the following five charities in equal amounts: Hurricane Sandy Victims, The Police Athletic League, The American Cancer Society, The March of Dimes, and The Dana-Farber Cancer Institute.

Regards,

Scott S. Balber
Trump has since taken the fight to Twitter, where he taunted Maher this morning:
.@billmaher was so nervous talking about me on the @jayleno show—I've never seen him like that!

— Donald J. Trump (@realDonaldTrump) January 9, 2013
As of now, Maher has stayed silent on the matter. But we can expect him to address it on Twitter or when Real Time on HBO returns January 18th.
(h/t Yahoo News)
—
>> Follow Matt Wilstein (@TheMattWilstein) on Twitter
Have a tip we should know? tips@mediaite.com