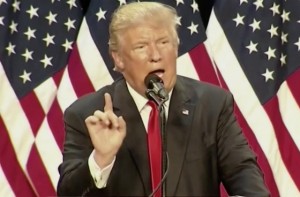 Presumptive Republican presidential nominee Donald Trump is getting all kinds of credit (or not, depending on your viewpoint) in the media this morning for apparently "softening" his stance on a proposed ban on Muslims. Trump told Greta Van Susteren that he'd "back off on" the Muslim ban once his proposed Giuliani Commission had a chance to sort things out, and in a radio interview Wednesday, told Brian Kilmeade that the ban is "just a suggestion."
Trump was responding to comments from the newly-elected mayor of London when he made the comment:
Well I assume he denies there is Islamic terrorism. There is Islamic radical terrorism all over the world right now. It's a disaster what's going on. I assume he is denying that. I assume he is like our President that's denying its taking place. We have a serious problem, it's a temporary ban, it hasn't been called for yet, nobody's done it, this is just a suggestion until we find out what's going on. We have radical Islamic terrorism all over the world, you can go to Paris, you can go to San Bernardino, all over the world, if they want to deny it, they can deny it, I don't choose to deny it.
These comments are being covered as a shift, but Trump has not backed off of implementing the ban, which he has promised to institute within the first 100 days of his presidency, and his assurance that the ban is temporary is not new. All he's telling Kilmeade is that since he's not currently an office-holder, the proposal functions as a suggestion. It remains to be seen how Trump's supporters react to this apparent "softening," and consequently, how long it will last.
Have a tip we should know? tips@mediaite.com