Images From the Insane F*cking Media Circus Where Two People Are Having a Meeting
At this very moment, the entire Venn diagram between politics and media is swarming outside the building in Washington where one human being is — gasp! — going to meet with another human being. Thankfully, cameras are there to catch the magic as it happens.
At long last, the countdown clock that MSNBC has been preparing us for is winding down: at RNC headquarters this morning, Donald Trump is going to meet with House Speaker Paul Ryan. And holy shit, the images emerging are absolutely bonkers and are pretty much everything wrong with the 2016 cycle.
You're forgiven if you thought that the media gathered here is capturing the moment that the ghost of Abraham Lincoln and the cryogenically frozen body of Walt Disney were getting together to announce that they discovered alien life. You'd also be forgiven if you thought that the Trump-Ryan meet-and-greet would be televised for the world to watch… but instead, the massively gathered crowd outside the RNC is hoping just to catch an image of Trump before he — wait for it — walks inside.
This is the stuff of legend, people. Let's take a closer look at the media mayhem:
journalists, protestors, spectators awaiting Trump's arrival at RNC for Paul Ryan mtg pic.twitter.com/6UBqlvrNAd

— Alex Pappas (@AlexPappas) May 12, 2016
Anti-Trump protesters wait for him outside RNC in advance of his big meeting with Paul Ryan. pic.twitter.com/V6XPgHCguj

— Janet Hook (@hookjan) May 12, 2016
#Breaking @realDonaldTrump has arrived in Washington for his meeting with @SpeakerRyan https://t.co/XOBtGeI6Di pic.twitter.com/eGmm6YVuQD

— Mornings with Maria (@MorningsMaria) May 12, 2016
Media scrum waiting for Trump and Ryan, just across from my subway stop. You'd think a deity was about to drop in. pic.twitter.com/xk1FomZfU5

— Dianne Rennack (@drennack) May 12, 2016
Media waiting for Donald Trump & Paul Ryan @markpmeredith #MGDC #Election2016 pic.twitter.com/bJmPkHC9sL

— PhotogDiva (@DanielleRGill) May 12, 2016
.@realDonaldTrump arrives at the #RNC for #Trumpalooza pic.twitter.com/wc3WIAlwCt

— Bill Clark (@billclarkphotos) May 12, 2016
Here are a few images from how the cable news networks have been covering this truly stupid waste of time, talent, and energy unprecedented event within the last hour: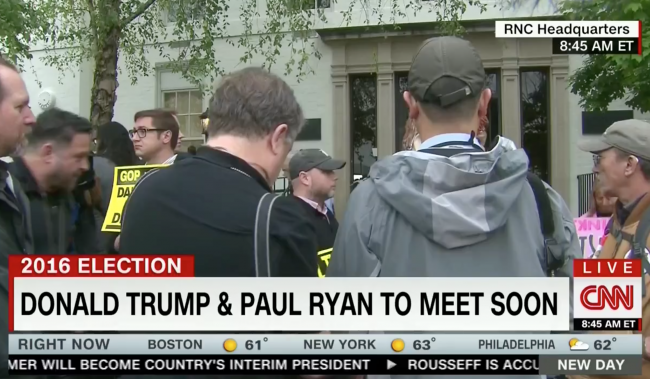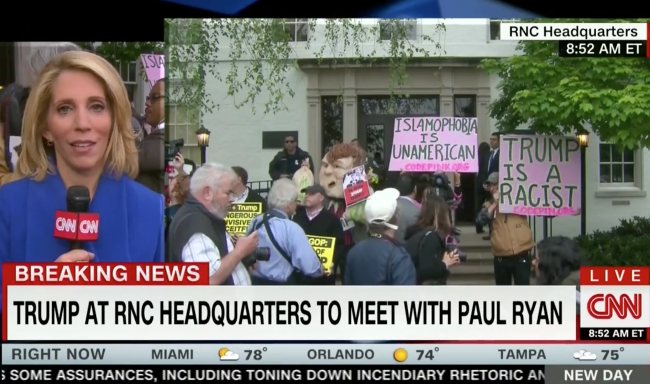 LOOK AT ALL THESE CARS PEOPLE!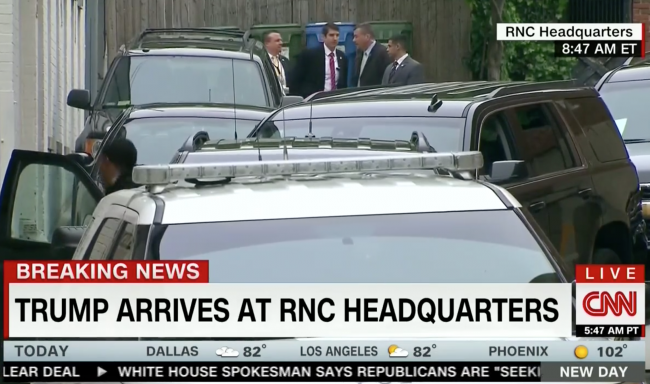 Here's a live shot of the man's goddamn plane for those of you who want to know how Trump got to DC today: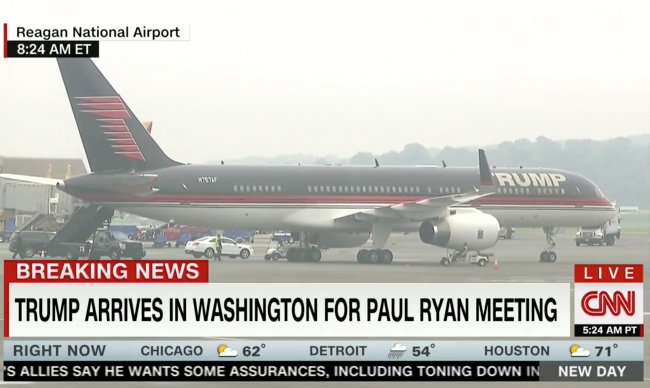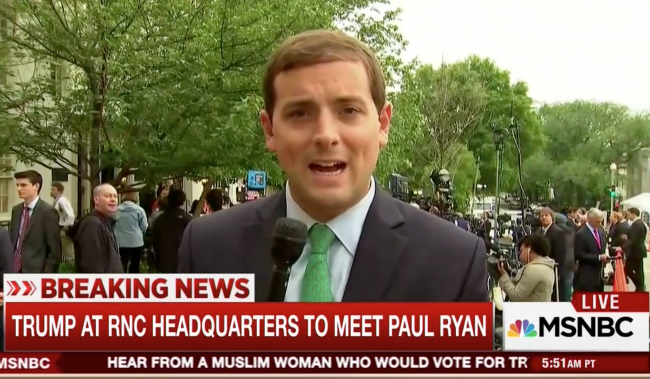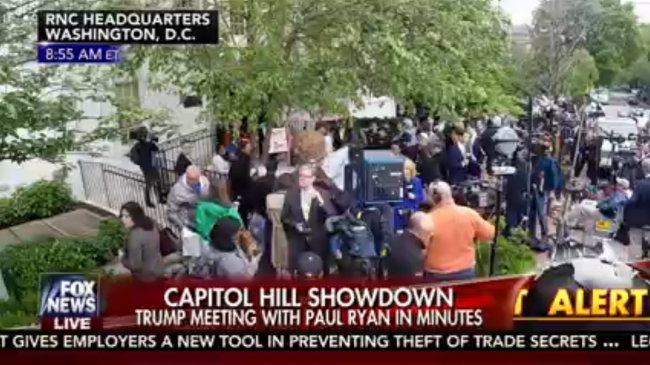 And here's a reliable Fox News alert letting us know where in the world the dramatic action is going down: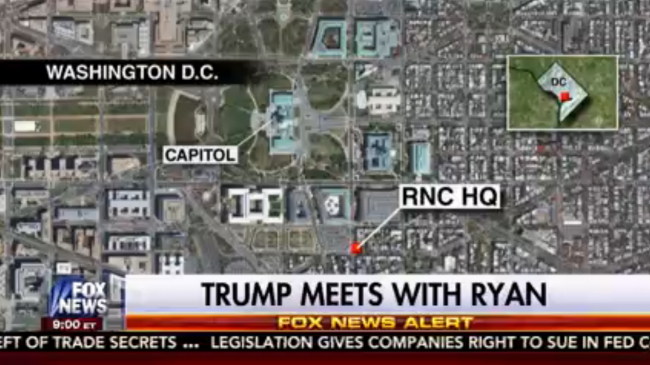 And this one — my god! MSNBC! You naughty provocateur, you! Don't tease me with these live shots of empty alley ways! A man can only take so much excitement for one morning and I'm still catching my breath from the twenty minutes of footage of the camera being aimed at the RNC building's brick f*cking facade.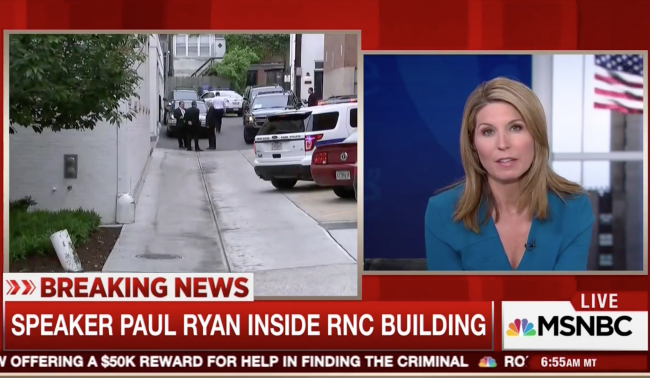 And we wonder how we became the laughing stock of the global community by nominating a reality TV star to become our President.
—
J.D. Durkin (@jiveDurkey) is an editorial producer and columnist at Mediaite.
[images via Twitter and screengrabs]
This is an opinion piece. The views expressed in this article are those of just the author.