Drudge Says Leonardo DiCaprio Raped by Bear in The Revenant, Twitters Loses It (UPDATED)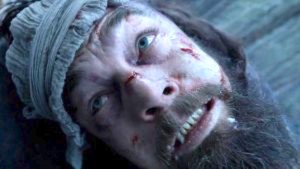 Academy Award-nominee Leonardo DiCaprio's newest film, The Revenant, supposedly involves a scene in which his character is raped by a bear. Twitter got wind of this on Tuesday and decided to quit everything else.
The unwanted-but-free press extravaganza for director Alejandro González Iñárritu's next began when Internet media hound Matt Drudge posted a rare tweet to his personal account about the story.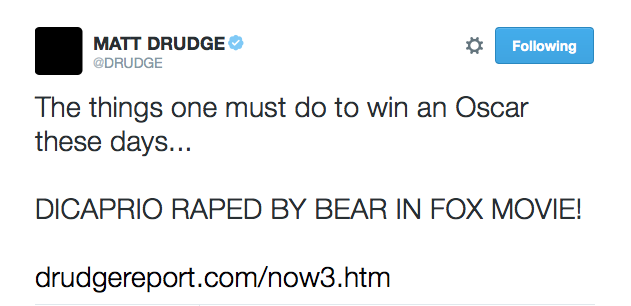 The report itself is, erm, "interesting."
The explicit moment from Oscar winning director Alejandro Inarritu has caused maximum controversy in early screenings. Some in the audience escaped to the exits when the Wolf of Wall Street met the Grizzly of Yellowstone.

The story of rural survivalism and revenge reaches new violent levels for a mainstream film.

The bear flips Leo over and thrusts and thrusts during the explicit mauling.

"He is raped — twice!"
Needless to say, Twitter's collective response to the rumored scene is everything we love and hate about the Internet.
"There is a bear in the woods. For some people, the bear is easy to see…"

— Dylan Byers (@DylanByers) December 1, 2015
Is it possible that Drudge took "bear" as in a large, bearded gay man to mean a literal bear?

— Lachlan Markay (@lachlan) December 1, 2015
I wish I had a dollar for every time an Oscar campaign resorted to the old trick of "A bear raped Leonardo DiCaprio."

— Mark Harris (@MarkHarrisNYC) December 1, 2015
surprised how solid Drudge Bear Twitter is. A+ work everyone, let's get back to work.

— Colin Campbell (@BKcolin) December 1, 2015
Do I want to know what the bear thing is about?

— Josh Barro (@jbarro) December 1, 2015
"DiCaprio Raped By Bear In Fox Movie" Folks, this time the Happy Tree Friends have gone too far

— Mike Tunison (@xmasape) December 1, 2015
Seriously, how long until the first "rape jokes aren't funny even when they're about bear rape" essay at Salon? https://t.co/E1E3n2sITe

— Sonny Bunch (@SonnyBunch) December 1, 2015
Salon: "I'm a bear-lover, but RWNJs are the real monsters." Atlantic: "Can bears have it all?" TNR: "America's history of anti-bear animus."

— Sonny Bunch (@SonnyBunch) December 1, 2015
Study: one out of every 30 DiCaprio performances is raped by a bear pic.twitter.com/kqUnbcnmQE

— Ben Shapiro (@benshapiro) December 1, 2015
The ol' "historic global summit vs. amorous movie bear" twitter news day

— Benjy Sarlin (@BenjySarlin) December 1, 2015
Jesus Christ. Step away from Twitter for ONE minute and Leonardo DiCaprio get's raped by a bear.

— Ashe Schow (@AsheSchow) December 1, 2015
something something Leo DiCaprio something something right to bear arms

— Alex Griswold (@HashtagGriswold) December 1, 2015
HELLO LEONARDO pic.twitter.com/hVTaGvIEok

— David Burge (@iowahawkblog) December 1, 2015
I thought Andy Serkis was tremendous as the bear in THE REVENANT.

— Keith Phipps (@kphipps3000) December 1, 2015
Bear E N G H rApe Z I

— Gideon Resnick (@GideonResnick) December 1, 2015
We all know where this is heading.
UPDATE–2:18 p.m. ET: According to Death and Taxes, DiCaprio is not raped by a bear in The Revenant. Sorry about the Oscar, Leo.
[Images via screengrab]
— —
>> Follow Andrew Husband (@AndrewHusband) on Twitter
Have a tip we should know? tips@mediaite.com