#DumpStoli: Iconic Brand Scrambles As Gay Bars Boycott Russian Vodka Over Anti-LGBT Laws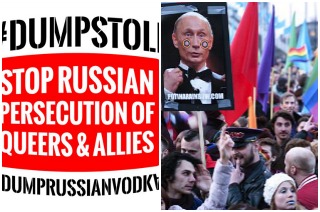 Gay bars across the country are boycotting Russian vodka in protest of the country's new anti-gay laws, and the iconic Stolichnaya, which says it is not a Russian brand, is doing everything possible to avoid getting caught up in the ban.
Russia recently passed several laws targeting the LGBT community—including one law that allows authorities to arrest visitors and foreign nationals suspected of being homosexual, and another banning "propaganda of nontraditional sexual relations"—that come amidst escalating violence against gays in the country.
It was enough that last week Stranger editor Dan Savage jumpstarted the #StopStoli campaign. Arguing that an Olympic boycott would have little effect, Savage instead directed the gay community to decline the thirteen brands of Russian vodka available in the United States, and direct their favorite watering holes to stop ordering the products.
Stoli is scrambling to keep its product in the bars' speed racks. The brand changed its website to boldly reject Russia's recent actions, and affirmed its commitment to the LGBT community: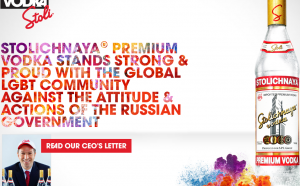 "I want to stress that Stoli firmly opposes such attitude and actions," said SPI CEO Val Mendeleev in an open letter. "Indeed, as a company that encourages transparency and fairness, we are upset and angry. Stolichnaya Vodka has always been, and continues to be a fervent supporter and friend to the LGBT community. We also thank the community for having adopted Stoli as their vodka of preference."
Mendeleev also wanted to "clear up some confusion" surrounding the brand's Russianness, swearing that the company is independent of the Russian government, headquartered in Luxembourg, and distilled in Latvia, now part of the European Union.
Savage disputes this. "That's old news," he wrote. "On January 1, 2014, Stoli becomes a Russian vodka again…The SPI Group—which will be distributing Stoli in the USA before the Olympic games begin this winter—is owned by Yuri Scheffler, one of the 100 richest men in Russia. Stoli is a Russian vodka."
At Forbes, Kathryn Dill found some gay bars who spent up to $10,000 a month on Stoli products are engaging in the boycott, adding Russian vodka to Jamaican products like Myers rum and Red Stripe beer, already boycotted over the island's anti-gay violence. The owners reminded everybody that "many gay households are dual income and childless, with high levels of disposable income," an expensive bar crowd to lose.
[h/t Daily Beast]
—
>> Follow Evan McMurry (@evanmcmurry) on Twitter
Have a tip we should know? tips@mediaite.com