Editor of Ultra-Orthodox Newspaper Actually Defends Decision to Cut Merkel from Paris Photo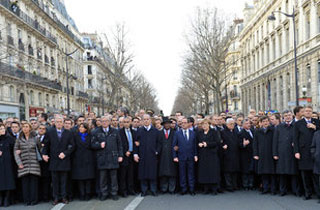 After international outcry over an Ultra-Orthodox Jewish newspaper editing prominent female European politicians out of a historic photo, the paper's editor defended his decision by insisting he was only preserving modesty.
The photo in question, published by the Israeli government, showed forty world leaders and dozens of prominent European politicians, but the Israel-based HaMevaser (The Announcer) chose to edit all the women out of it, including German Chancellor Angela Merkel and Paris mayor Anne Hidalgo.
In an interview with an Israeli television channel, Binyamin Lipkin, the editor of The Announcer, said that he was only adhering to longstanding Haredi traditions of not showing pictures of women, even if the woman in question is the fifth most powerful human in the world and the visual definition of modest.
As translated by The Guardian:
"The eight-year-old can't see what I don't want him to see," he told Israel's Channel 10 television station. "True, a picture of Angela Merkel should not ruin the child, but if I draw a line, I have to put it there from the bottom all the way to the top."

He also said he did not want to tarnish the memories of the people killed in the attacks.

"Including a picture of a woman into something so sacred, as far as we are concerned, it can desecrate the memory of the martyrs and not the other way around," he said.
So there you have it. Their desire to avoid "desecrat[ing] the memory of the martyrs" is the reason they Photoshopped the women out of that photo, replacing them with this:
[h/t The Denver Post]
[Image via GPO]
—
>> Follow Tina Nguyen (@Tina_Nguyen) on Twitter
Have a tip we should know? tips@mediaite.com