El Chapo Sends Death Threats to Donald Trump, Calling Him A 'Whitey Milksh*tter'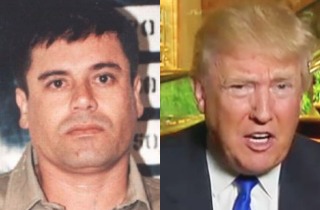 Two things have happened ever since the Mexican drug lord Joaquin "El Chapo" Guzman made his great prison break: Donald Trump has used it to fuel his ravenous anti-Mexican political stance, and Chapo's Twitter profile has seen a spike in activity.
Trump once again pushed his immigration approach by saying on Monday that Chapo was part of the Mexican government's conspiracy to send its criminals across the border, which the fugitive apparently did not take very kindly to.
Trump's latest tweets on his "foreign policy" consisted of jabs towards Jeb Bush and Hillary Clinton's supposed ability to negotiate with Chapo, and promising that he would "kick [Chapo's] ass" if he became president.
El Chapo and the Mexican drug cartels use the border unimpeded like it was a vacuum cleaner, sucking drugs and death right into the U.S.

— Donald J. Trump (@realDonaldTrump) July 13, 2015
When will people, and the media, start to apologize to me for my statement, "Mexico is sending….", which turned out to be true? El Chapo

— Donald J. Trump (@realDonaldTrump) July 13, 2015
Chapo, who heads the powerful Sinaloa Cartel, escaped from prison on Saturday night on the back of a motorcycle. It is unknown whether Chapo has already managed to reach a computer since the breakout, but his Twitter account, which was managed by his son following his incarceration, has released numerous tweets, taunting the Mexican government while also making direct threats towards Trump.
Sigue chingando y voy hacer que te tragues todas tus putas palabras pinche guero cagaleche @realDonaldTrump

— Joaquín Guzmán Loera (@ElChap0Guzman) July 12, 2015
A rough translation reportedly indicates that the threat reads, "keep f***ing around and I'm gonna make you swallow your bitch words you f*cking whitey milksh*tter (a Mexican homophobic slur )."
La vida da muchas vueltas, un día estamos en el hoyo y otro día estamos arriba.

— Joaquín Guzmán Loera (@ElChap0Guzman) July 12, 2015
This tweet translates to a remark on Chapo's situation, saying "life takes many turns, one day we are in the hole and another day are up."
Trump said that he still won't back down on his controversial statements, but reports have indicated that the celebrity plutocrat has contacted the FBI in response to Chapo's threat. "I'm fighting for much more than myself," Trump said. "I'm fighting for the future of our country which is being overrun by criminals."
[h/t TMZ]
[Images via Wikimedia / Screengrab]
— —
>> Follow Ken Meyer (@KenMeyer91) on Twitter
Have a tip we should know? tips@mediaite.com