Erick Erickson Amends Essay Titled 'Is Your Daughter a Whore?' to Placate the 'Easily Offended'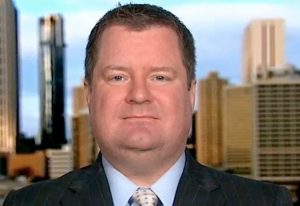 Today is Halloween, which means that parents across the country will be panicking about someone putting poison in their kids' candy and impure thoughts in their brains. In spite of the fact that there are a bunch of super-normal and not-sexy costumes available for kids, there is always a unique brand of "slut panic" that circulates in October when parents come across short-skirted ones in the preteen section. Today, Erick Erickson posted an essay called, "Is Your Daughter a Whore?" that tackled the costumes he sees as irrefutable proof of a "society in decline."
Obviously, he got a lot of pushback on that, especially since the point of the essay was how distinctly un-whore-ish his 11-year-old daughter is. He was called out on various blogs and on Twitter for even using that word when talking about his kid's peers, for insisting that it's too hard to find a costume for his daughter that doesn't show her "butt crack, butt cheek, or cleavage" when other parents have reported no such issue, and for writing about whether parents will "dress their kids up as whores" without giving any agency to the kids themselves.
The point of this post is not to join in on that calling-out because, in fairness, it isn't like he hasn't done equally inflammatory things in the past, so this shouldn't be that shocking. This post is just to note that the following message appeared at the top of the piece this afternoon:

* The original title was "Is Your Daughter a Whore?" but people seem vastly more offended by that title than by the costume industry wanting to dress their children up as whores. So to please the ever so easily offended, I've changed the title.
The title is now "The Whorification of Halloween."
Here is a smattering of opinions from the "ever so easily offended:
@EWErickson Man you've got to have some real horrifying shit boiling in your subconscious, my Godly friend

— Kyrl Orkmansen (@Orkman_) October 31, 2016
@EWErickson or even "Is your son terrible?"

— Boo T (@smithmemphis) October 31, 2016
.@EWErickson My god. What a vile thing to say. My daughter doesn't use that word. Her good father certainly never would. Why, sir, do you?

— Screaming Banshee (@kellybarnhill) October 31, 2016
.@EWErickson pic.twitter.com/DtgzZ602Vc

— Ka'GHOUL (@KJ_DOOM) October 31, 2016
@EWErickson Your daughter is 11. You know that this kind of article will haunt you in a few years. Arrogant and self righteous beyond belief

— Danny Vaserov (@DannyVaserov) October 31, 2016
[image: screengrab]
This is an opinion piece. The views expressed in this article are those of just the author.