GOP Senator Jokes About Being 'Shocked' a Photo Of Hillary Didn't Have a 'Bullseye On It'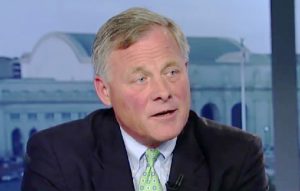 In a conversation with gun owners in North Carolina, Sen. Richard Burr (R-NC) joked that a picture of Hillary Clinton on a gun magazine may have been improved with a "bullseye on it."
In audio obtained by CNN Monday, the vulnerable lawmaker, who is in a close Senate race with Democrat Deborah Ross, stated that nothing made him feel better than seeing the magazine with her photo on it.
The North Carolina Republican, locked in a tight race for reelection, quipped that as he walked into a gun shop "nothing made me feel better" than seeing a magazine about rifles "with a picture of Hillary Clinton on the front of it."

"I was a little bit shocked at that — it didn't have a bullseye on it," he said Saturday to GOP volunteers, prompting laughter from the crowd in Mooresville, North Carolina. "But on the bottom right (of the magazine), it had everybody for federal office in this particular state that they should vote for. So let me assure you, there's an army of support out there right now for our candidates."
The Republican Senator issued an apology to CNN over the comments.
"The comment I made was inappropriate, and I apologize for it," Burr, the Senate Intelligence Committee chairman, said in a Monday statement to CNN.
This isn't the first time a Republican has made potentially inappropriate remarks about Clinton and guns. Republican presidential nominee Donald Trump said this summer that "Second Amendment people" could take things into their own hands regarding Hillary and the Supreme Court.
Listen to audio of Burr above.
[image via screengrab]
–
Follow Justin Baragona on Twitter: @justinbaragona
Have a tip we should know? tips@mediaite.com