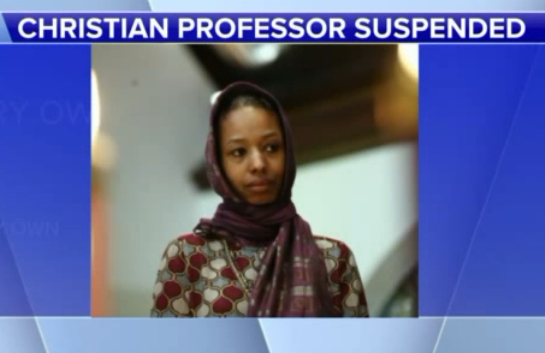 Wheaton College in Chicago suspended a tenured professor who wore a hijab to express solidarity with Muslims, claiming the garb violated the school's Statement of Faith.
Political science professor Larycia Hawkins last week announced she would wear a hijab "in religious solidarity with Muslims because they, like me, a Christian, are people of the book," later adding "we worship the same God."
But the college placed Hawkins — who did not seek permission to don a hijab — on administrative leave, citing "fundamental differences" between Islam and Christianity.
In a statement to Chicago Tribune, Wheaton College stopped short of condemning Hawkins' gesture, but said the religions contradict each other in "what they teach about God's revelation to humanity, the nature of God, the path to salvation and the life of prayer."
"Wheaton College faculty and staff make a commitment to accept and model our institution's faith foundations with integrity, compassion and theological clarity," statement read. "As they participate in various causes, it is essential that faculty and staff engage in and speak about public issues in ways that faithfully represent the college's evangelical Statement of Faith."
In an interview, Hawkins said she planned to wear the hijab until Christmas, adding it's "a time of real vitriolic rhetoric by fellow Christians sometimes and people who aren't Christian who conflate all Muslims with terrorist."
"This is a way of saying if all women wear the hijab we cannot discriminate," Hawkins added. "If all women were in solidarity, who is the real Muslim?"
Watch the video above, via CLTV.
[Image via screengrab]
—
>> Follow Elizabeth Preza on Twitter (@lizacisms)
Have a tip we should know? tips@mediaite.com