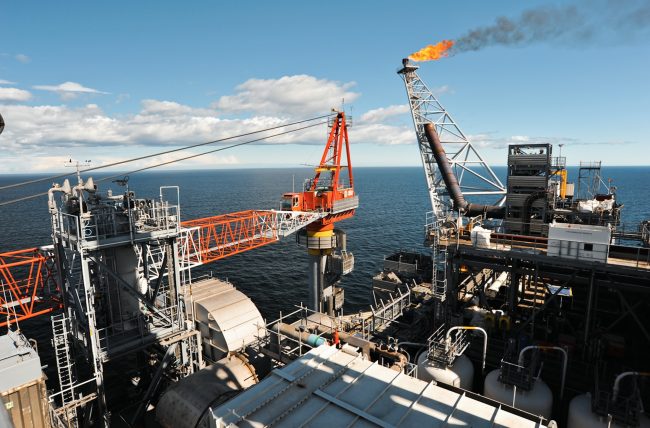 ExxonMobil has filed a request to the Treasury Department to waive government sanctions so they can resume a project with a Russian oil giant in the Black Sea.
The Wall Street Journal reports that Exxon is seeking permission to drill with Rosneft in multiple areas that have been banned under government sanctions. The waiver request was submitted during the Obama administration, but Exxon has not dropped their application, and it now stands before the Donald Trump administration.
The waiver request was renewed in March, a month after former ExxonMobil CEO Rex Tillerson was confirmed as Secretary of State. The New York Times notes that the appeal wasn't addressed during Tillerson's Senate hearings, though he did face questions regarding his connections to Russia and Vladimir Putin.
From the Times:
Asked about the waiver application, Alan Jeffers, an Exxon Mobil spokesman, said, "We don't comment on ongoing issues." A Treasury representative said the department would not comment on individual licenses or waiver requests.

The oil industry official said that the application had been made in 2015, with Exxon Mobil arguing that it could lose its contractual exploration rights in the Black Sea if it did not begin drilling operations by the end of 2017. European companies, particularly Eni, the Italian oil and gas giant, could then pick up the work.

The Russian news media quoted Zeljko Runje, Rosneft's vice president for offshore projects, saying last June: "We are going to drill with Eni next year. That is our plan. On the Black Sea."
Meanwhile, the U.S. government continues to investigate potential ties between the Trump campaign and Putin's campaign to meddle with the 2016 election. The relationship between the United States and Russia overall has also deteriorated due to the recent airstrike against Bashar al-Assad, an ally of Russia, as punishment for the Syrian dictator's use of chemical weapons.
[Image via Shutterstock]
— —
>> Follow Ken Meyer (@KenMeyer91) on Twitter
Have a tip we should know? tips@mediaite.com