NEW: Failed GOP Candidate Don Blankenship Files $12 Billion Defamation Lawsuit Against Major Media Outlets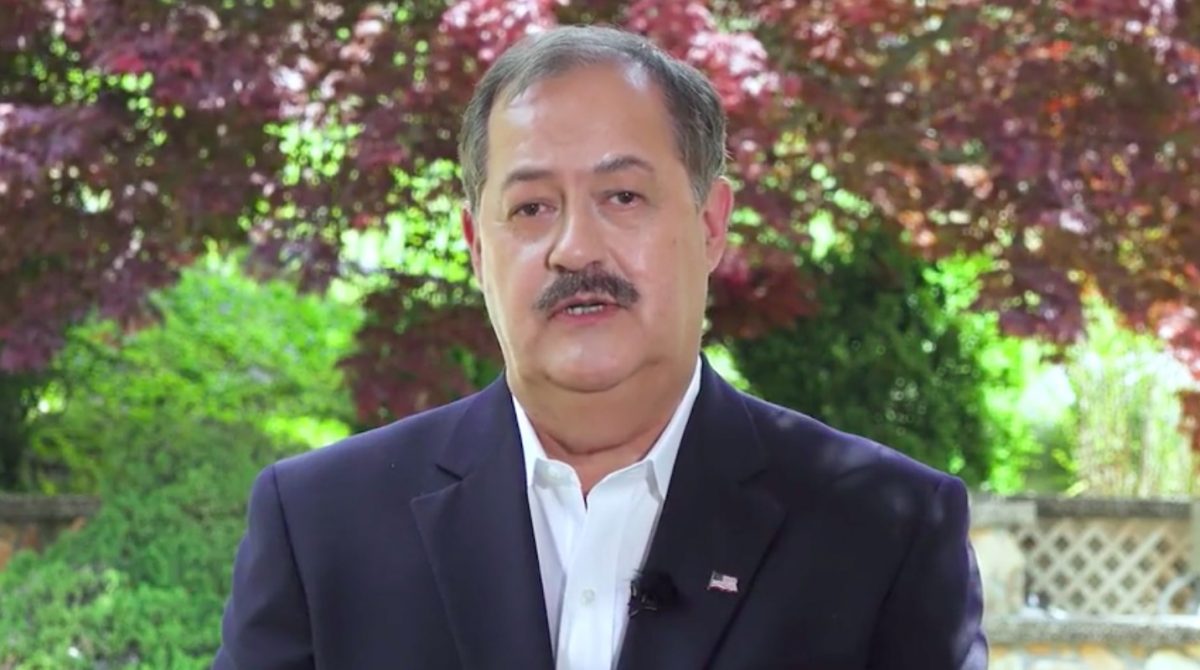 Failed Republican Senate candidate Don Blankenship filed a massive defamation lawsuit on Thursday against dozens of news outlets and media personalities for referring to him as a "felon" during his 2018 run in the West Virginia primary.
While Blankenship, the former CEO of Massey Energy, spent a year in federal prison after a misdemeanor conviction for conspiring to violate safety regulations prior to a deadly mining disaster in 2010, he was acquitted of all felony charges.
Blankenship — whose campaign rose to national prominence after he ran an ad dubbing Senate Majority Leader Mitch McConnell "Cocaine Mitch" and called Transportation Secretary Elaine Chao's father a "wealthy Chinaperson" — is seeking over $12 billion in damages in the lawsuit filed in Mingo County, West Virginia Circuit Court.
"Fox News, CNN, MSNBC and the other defendants in this case, when they represent themselves as a news outlet or news source, the public's reasonable expectation is that they are indeed a 'credible' news outlet," Blankenship's attorney Eric Early, a failed GOP candidate for California attorney general, said in a statement to Mediaite. "It's beyond wrong when they lie about facts that are easily 'google-ible.' These news outlets are going to have to decide at some point whether they are actual news or entertainment channels."
For "injuries Mr. Blankenship has suffered," he is seeking "damages in an amount not less than $2 billion dollars," the suit notes, before adding that he also "seeks substantial punitive damages in the amount of 10 billion dollars."
"Some of the defendants in this case are massive media companies… and a large punitive damage award is necessary to adequately punish and/or deter these Defendants from repeating this conduct," the document states.
The lengthy list of outlets targeted by Blankenship is nonpartisan. CNN, MSNBC, Fox News, the Associated Press, the Boston Globe, the Chicago Tribune, the Los Angeles Times, and the Washington Post are all listed alongside Breitbart News, the Washington Times, and the Washington Examiner's parent company Clarity Media.
Fox News senior judicial analyst Andrew Napolitano, MSNBC host Chris Hayes, Fox News host Neil Cavuto, MSNBC host Joy Reid, and Washington Post White House reporter Josh Dawsey are among the media figures named in the lawsuit.
The case's defendants are not limited to the mainstream media, as pundits from far-right news sites the Daily Caller and Breitbart News are also named. Additionally, GOP operatives, like former Bush adviser Bradley Blakeman and the NRSC's executive director Kevin McLaughlin, were listed for their purported false "felon" accusations.
Mediaite contacted the aforementioned outlets and pundits for comment on the lawsuit but did not receive a response in time for publication, except for NBC who declined to respond.
Napolitano bears the brunt of the suit for falsely stating that Blankenship "went to jail for manslaughter, after being indicted" during a Fox News segment in the lead up to the primary race.
"Fox News knew this was false," the lawsuit states. "In fact, Fox News had reported, on December 3, 2015, that Mr. Blankenship had been acquitted of the felonies, convicted of a misdemeanor, and certainly never charged with 'manslaughter.'"
Napolitano, a former New Jersey Superior Court judge, acknowledged his mistake in an email but "never publicly retracted or corrected his statement," the suit alleges.
"I understand now that yesterday I mistakenly misstated the nature of Mr, Blankenship's lamentable conviction and failed to mention his acquittals," Napolitano wrote in an email. "I will be happy to address this thoroughly and accurately in air on Monday. I feel very badly about this; especially since I am fond of him and wish him well in his Senate race." He corrected the felony claims on-air, but not until weeks after the election when "the damage to Mr. Blankenship was fully realized," per the suit.
Fox News host Cavuto is named for referring to Blankenship as "the outside candidate, the one that's a convicted felon."
The lawsuit takes special aim at Fox News because the network is "an extremely influential source of information for West Virginia voters."
MSNBC also received a significant call-out:
"Blankenship was repeatedly defamed by the left leaning mainstream media, including Defendants CNN and MSNBC," the court document reads. "Examples include MSNBC's Chris Hayes calling Mr. Blankenship a "felon" on MSNBC at least twice and Joy Reid calling him a 'convicted felon' on May 5, 2018."
Blankenship's attorney suggested that McConnell and the media worked in tandem to smear the candidate.
"The McConnell swamp saw Mr. Blankenship take the lead in the polls and panicked," Early told Mediaite. "At the end of the day, these media outlets and some of the swamp including Mitch McConnell and Senator Thune set out on a reckless campaign to defame Mr. Blankenship which interfered in a federal election."
A comment from Blankenship included in the suit states, "I beat all three of the felonies… It's incredible, they sent me to prison for a misdemeanor. I was the only prisoner there that was a misdemeanant."
Blankenship lost the Republican primary to the establishment-backed West Virginia Attorney General Patrick Morrisey, who went on to lose to incumbent Senator Joe Manchin (D) by a few points. Blankenship threatened a third-party run in the general election but was stopped by the West Virginia Supreme Court due to the state's laws against "sore loser" candidates.
Have a tip we should know? tips@mediaite.com