Family Feud Between Ronna McDaniel and Mitt Romney Sends Shockwaves: He's 'Your Uncle!!!'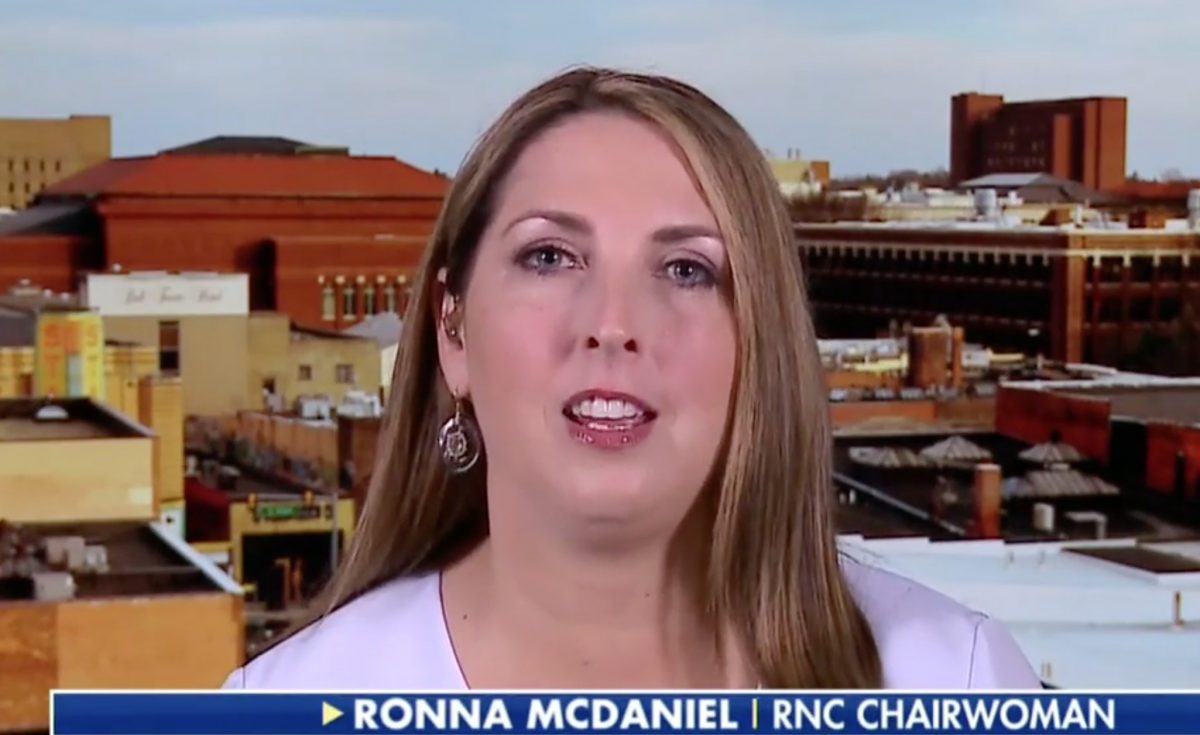 Political Twitter is doing a collective spit-take in response to RNC chairwoman Ronna Romney McDaniel's slam against Mitt Romney for his criticisms of Donald Trump.
Romney, former Republican presidential candidate and senator-elect from Utah, is drawing the wrath of conservatives after he penned an op-ed slamming the president and questioning his fitness for office. Trump returned fire against Romney earlier today, and now, McDaniel has pinned this tweet of herself slamming the "freshman senator" for his "disappointing and unproductive" critiques.
POTUS is attacked and obstructed by the MSM media and Democrats 24/7. For an incoming Republican freshman senator to attack @realdonaldtrump as their first act feeds into what the Democrats and media want and is disappointing and unproductive. https://t.co/ArhI7Bi7bo

— Ronna McDaniel (@GOPChairwoman) January 2, 2019
Since McDaniel is attacking her own uncle for his views on Trump's character, political observers are having a field day as they ponder the fallout. There have been plenty of reactions already, many of which are taking note of the fact that McDaniel stopped using her maiden name in public because Trump asked her to when she took control of the RNC.
Reminder that Ronna McDaniel dropped "Romney" from her Twitter handle when she became RNC chair. https://t.co/aHxUr9URoU

— andrew kaczynski (@KFILE) January 2, 2019
2019: Romney's niece, who no longer uses her maiden name now that she is RNC chairwoman, chides her uncle Mitt for criticizing her boss Trump https://t.co/qjP1qgM8HT

— Philip Rucker (@PhilipRucker) January 2, 2019
omg. Mitt's your uncle!!! https://t.co/521JP4MexJ

— Sam Stein (@samstein) January 2, 2019
Pavlik Morozov speaks. https://t.co/ajlRGA9C2A

— John Podhoretz (@jpodhoretz) January 2, 2019
oh to be a fly on the wall at this family reunion https://t.co/uzIJwNZFwo

— Natasha Bertrand (@NatashaBertrand) January 2, 2019
The Romney family Christmas must have been lit this year https://t.co/8Uc661U2Yo

— Benny (@bennyjohnson) January 2, 2019
When you have to prove you didn't get special preference because of who your family is by throwing your family under the bus and then being the bus driver and running them over https://t.co/YhMlOedsgg

— Caroline Moss (@CarolineMoss) January 2, 2019
Deny thy [uncle] and refuse thy name! https://t.co/9CCu6YtefF

— Ames Grawert (@AmesCG) January 2, 2019
"Pass the cranberry sauce, please, Uncle Mitt, you jumped-up has-been."

— Thanksgiving 2019 with the (ex) Romneys. https://t.co/3S7ixq9Wdn

— Charles P. Pierce (@CharlesPPierce) January 2, 2019
One of the main characteristics of being in a cult is you start rejecting members of your own family. https://t.co/zb4R93oKAq

— Bryan Tucker (@BTuckertime) January 2, 2019
Faaaaamily feeeeud! https://t.co/FjQNay69aK

— Cameron Joseph (@cam_joseph) January 2, 2019
— —
>> Follow Ken Meyer (@KenMeyer91) on Twitter
Have a tip we should know? [email protected]