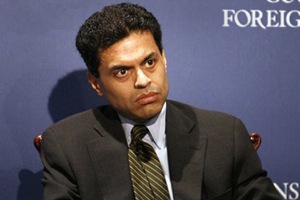 Time magazine and CNN both suspended Fareed Zakaria after he admitted to plagiarizing a column from The New Yorker in a recent column about gun control in Time. Today, both outlets announced they're having Zakaria return to work for them.
RELATED: Fareed Zakaria Expected To Issue Apology For Similarities To Other Writer's Gun Control Article (Updated)
CNN issued the following statement:
CNN has completed its internal review of Fareed Zakaria's work for CNN, including a look back at his Sunday programs, documentaries, and CNN.com blogs. The process was rigorous. We found nothing that merited continuing the suspension.

Zakaria has apologized for a journalistic lapse. CNN and Zakaria will work together to strengthen further the procedures for his show and blog.

Fareed Zakaria's quality journalism, insightful mind and thoughtful voice meaningfully contribute to the dialogue on global and political issues. His public affairs program GPS will return on Sunday, August 26 at 10am ET on CNN/US and 8am ET on CNN/International.
Time issued a similar statement, noting that Zakaria's column will return in the beginning of September. Via POLITICO:
"We have completed a thorough review of each of Fareed Zakaria's columns for TIME, and we are entirely satisfied that the language in question in his recent column was an unintentional error and an isolated incident for which he has apologized," Time's statement read. "We look forward to having Fareed's thoughtful and important voice back in the magazine with his next column in the issue that comes out on September 7."
Following discovery of the similarities between a portion of Zakaria's column and that of one in The New Yorker, Zakaria had released the following statement, apologizing for the error:
Media reporters have pointed out that paragraphs in my Time column this week bear close similarities to paragraphs in Jill Lepore's essay in the April 23rd issue of The New Yorker. They are right. I made a terrible mistake. It is a serious lapse and one that is entirely my fault. I apologize unreservedly to her, to my editors at Time, and to my readers.
Now fans can rest assured he'll be back to his usual commentary.
(H/T POLITICO)
Have a tip we should know? tips@mediaite.com