FBI Asked To Probe How Mother Jones Obtained Secret Audio Of McConnell Meeting About Ashley Judd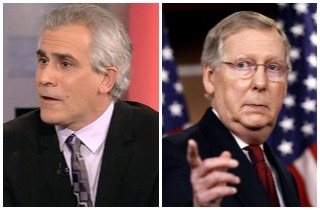 This morning, Mother Jones' David Corn (of "47 percent" fame) posted audio in which Sen. Mitch McConnell (R-KY) and his aides are heard discussing strategy to take on possible Senate race opponent Ashley Judd (who, since then, officially announced she won't run). The discussion included Judd's mental health and views on religion. Following the story's publication, reports said the FBI has been asked to look into how the tape was obtained.
The recording took place during a meeting on February 2, according to Corn, when they went through the "wealth of material" Judd provided to opposition research. Going beyond Judd's support for President Obama, and stances of abortion and gay marriage, the meeting also touched upon mental illness.
Per the report, the "meeting leader" pointed to her being "emotionally unbalanced" — drawing from her autobiography in which she discussed contemplating suicide and seeking treatment for depression. "The McConnell aides, though, raised the possibility of doing more than calling attention to Judd's well-known history; they discussed how they could make her seem a true weirdo," Corn wrote.
The meeting leader also pointed to Judd's "critical" view of Christianity and being "anti-sort-of-traditional American family." Corn's report provides audio and quotes from the various remarks, commenting the on the jokes and laughter among those criticizing Judd.
Not long after the story was published, we learned the FBI has been asked to look into how Mother Jones obtained the audio:
"Senator McConnell's campaign is working with the FBI and has notified the local U.S. Attorney in Louisville, per FBI request, about these recordings," said McConnell campaign manager Jesse Benton. "Obviously a recording device of some kind was placed in Sen. McConnell's campaign office without consent. By whom and how that was accomplished will presumably be the subject of a criminal investigation."
The full Mother Jones report is here.
Have a tip we should know? tips@mediaite.com