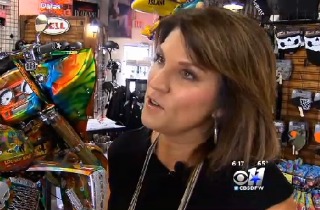 And now it's time to play everyone's favorite game: Guess Which Person You've Never Heard of Posted Something Controversial on Social Media That You Should Care About Because Reasons!
Today's subject is Cheryl Rios, a Texas CEO who posted on Facebook that she's not particularly crazy about having a female President of the United States. She's against Hillary Clinton, of course, but this is bigger than just that to Rios, who posted on Facebook, "Yes I run my own business and I love it and I am great at it BUT that is not the same as being the President, that should be left to a man, a good, strong, honorable man."
She also invoked women's hormones, as she did in a subsequent interview with KTVT. Rios said there's a "Biblical sound reasoning" for her thinking.
Now, again, the relative newsworthiness of Rios saying this is maybe a bit oversold. Ian Tuttle alleged at the conservative National Review yesterday that this is what such coverage is trying to get at:
What is newsworthy is what informs an ideological narrative. If the story is that "America chafes under the yoke of rampant sexism" — and since we have obliterated the distinction between thought and deed — then it is only reasonable to begin mining private opinions for evidence, which then can be — must be! for justice! — exposed. The endgame is clear: Certain opinions cannot be allowed to exist.
Watch KTVT's report here:
[h/t HuffPost]
[image via screengrab]
— —
Follow Josh Feldman on Twitter: @feldmaniac
Have a tip we should know? tips@mediaite.com
Josh Feldman - Senior Editor