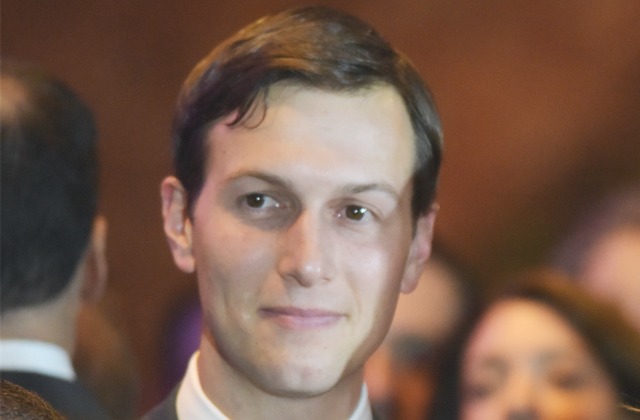 With reports swirling around about potential White House shakeups and Steve Bannon supposedly on thin ice, #FireKushner blew up and became a major trend on Twitter tonight.
Various reports this week have documented the tensions between Bannon and Jared Kushner recently. In particular, there was one report from New York Magazine headlined "Trump's Syria Strike Is Latest Sign of Steve Bannon's Waning Influence," which said the following:
Two sources close to Bannon told me the former Breitbart executive chairman argued against the [Syria] strike — not because of its questionable constitutionality, but on the grounds that it doesn't advance Trump's America First doctrine. "Steve doesn't think we belong there," one Bannon ally told me. Bannon's position lost out to those inside the White House, including Jared Kushner, who argued Trump needed to punish the Assad regime.
Politico is reporting tonight that both men had a "bury-the-hatchet meeting officiated by" President Trump at Mar-a-Lago, but there are still a lot of Trump supporters on Twitter calling on the president to #FireKushner to the point where it became a major Twitter trending topic:
I didnt vote for globalist cucks #FireKushner

— Jack Posobiec ?? (@JackPosobiec) April 8, 2017
Kushner is a traitor to the American people, we have had enough of his globalist agenda influencing our President. #FireKushner

— Baked Alaska™ (@bakedalaska) April 7, 2017
#FireKushner because we did not vote for a fucking globalist.

— Cassandra Fairbanks (@CassandraRules) April 7, 2017
Dear @POTUS, I know he's your son in law, but I voted for YOU to run things, not him. You need to #FireKushner w/ family things get messy.

— 8CIAMicroBits? (@8bitsofsound) April 7, 2017
We made Trump and we can break Trump. You owe us principled loyalty Mr. President. #FireKushner because loyalty to the people matters.

— Sid Garside (@sidgarside) April 7, 2017
Dear @realDonaldTrump , you need to #FireKushner and #KeepBannon . Your base didn't elect you to have globalists advising you in the WH.

— Martin Nadeau (@Martin_Nadeau) April 7, 2017
I did not vote for Jared Kushner for President. I voted for America First and Trump/Bannon. No tolerance for this shit.#FireKushner

— James B? (@jbro_1776) April 7, 2017
No war. No cucks. #FireKushner

— Cassandra Fairbanks (@CassandraRules) April 7, 2017
I didn't elect Kushner to nation build overseas. I elected Trump to build up our nation here.

Keep Bannon.#FireKushner. No more globalism.

— Elizabeth ? (@BasedElizabeth) April 8, 2017
The people want Steve Bannon. #FireKushner & #KeepBannon

— Based Monitored ?? (@BasedMonitored) April 7, 2017
I voted for @realDonaldTrump, not his frigging son-in-law. #FireKushner

— SabrinaVanZant (@SabrinaVanZant) April 7, 2017
[image via a katz / Shutterstock]
— —
Follow Josh Feldman on Twitter: @feldmaniac
Have a tip we should know? tips@mediaite.com
Josh Feldman - Senior Editor