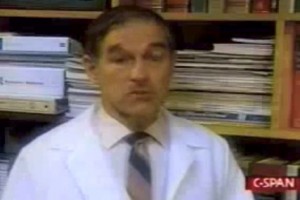 Political video wiz kid Andrew Kaczynksi has dug up archival video of Republican presidential hopeful Ron Paul in 1995, discussing the contents of his newsletters, which have drawn serious scrutiny, at length in a C-SPAN interview, despite his assertion yesterday to Gloria Borger that, "I never read that stuff. I was probably aware of it ten years after it was written."
RELATED: Rep. Ron Paul Gets Irked By Newsletter Questions, Walks Out Of CNN Interview
Paul appears to be knowledgeable of the contents of the newsletters as seen below:
So, I was always very active in both politics and my profession. When I came back, I resumed my medical practice, and I've been doing that ever since, but I've also stayed active in education. Long term, I don't think political action is worth very much if you don't have education, and so I've continued with my economic education foundation, Free Foundation, which I started in 1976. So that's been very active. Actually, in the last several years, we've been doing some video work, in an educational manner. We did 14 different 30-minute programs on video.

But along with that, I also put out a political type of business investment newsletter that sort of covered all these areas. And it covered a lot about what was going on in Washington, and financial events, and especially some of the monetary events. Since I had been especially interested in monetary policy, had been on the banking committee, and still very interested in, in that subject, that this newsletter dealt with it. This had to do with the value of the dollar, the pros and cons of the gold standard, and of course the disadvantages of all the high taxes and spending that our government seems to continue to do.
Watch Paul discuss his newsletters in 1995 via C-SPAN below:
Have a tip we should know? tips@mediaite.com