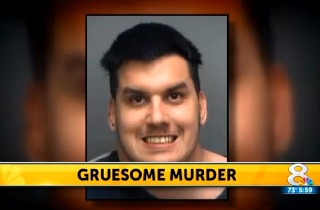 A Florida man was arrested after he allegedly decapitated his mother on New Years Eve, claiming she was "nagging" him to do some chores around the house.
Pinellas County Police say Christian Jose Gomez, 23, hit his mother, 48-year-old Maria Suarez-Cassagne, over the head with an ax before cutting her head off in the garage, placing the head in a garbage can and attempting to drag her body outside. But according to police, Gomez could not take her body outside to the garbage can because he claimed it was too heavy. The gruesome crime was committed, according to the county sheriff, all because Gomez did not want to bring some boxes into the attic.
Mario Gomez, Christian's 26-year-old brother, found the body and was home while his brother killed their mother. He told police he assumed the "noises" he heard was just his brother putting the boxes away.
"He went to the garage, he found an axe laying on the floor," Sheriff Bob Gualtieri told WFLA. "He found a blood trail and he followed that outside to the side of the house and when he went outside, he found his mother laying there on the ground next to a trash can, and unfortunately his mother had been decapitated, so he immediately called the sheriff's office."
Gualtieri also gave more details about the murder, including the fact that Gomez had been planning it for two days:
"He was upset because his mother for the last couple of days had been trying to get him to put these boxes in the attic and because he was mad at her for telling her to put these boxes in the attic, he planned her murder for two days. In a very calm, cool way, he explained what he did, why he did it and what happened and by talking to him, you wouldn't know he had any mental illness…that's very scary."
After a brief chase down the street, police arrested Gomez. He was reportedly diagnosed with schizophrenia, but it was not clear whether he was taking his prescribed medications. In addition, Gomez told police he was angry at his mother because he thought she favored his older brother more than him.
Watch the report below, via WFLA (it starts at around 3:52):
[Image via screengrab]
— —
>>Follow Andrew Desiderio (@forza_desiderio) on Twitter
Have a tip we should know? tips@mediaite.com