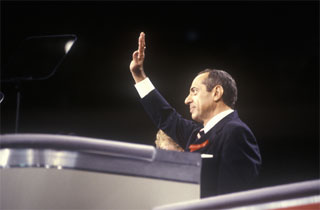 Mario Cuomo, the three-term governor of New York from Queens, a staunch progressive, and the patriarch of a political family, died last night at the age of 82.
Cuomo had recently been hospitalized for heart issues and died at home from "natural causes due to heart failure," his family said in a statement.
To describe Cuomo as a prominent figure in New York politics would be underselling it: the son of Italian immigrants and almost-Major League Baseball player, Cuomo was, at various points throughout his life, New York's Secretary of State, a Lieutenant Governor, a one-time candidate for Mayor of New York, and a potential Supreme Court Justice as well. (And that is the short list.)
But it was his electrifying speech at the 1984 Democratic National Convention that vaulted him to the national spotlight, in which he challenged then-President Ronald Reagan's "trickle-down" economic policies with an image of an America divided by class, still relevant thirty years later.
"There is despair, Mr. President, in the faces that you don't see, in the places that you don't visit in your shining city," he said at the time, to wild applause. "In fact, Mr. President, this is a nation — Mr. President you ought to know that this nation is more a 'Tale of Two Cities' than it is just a 'Shining City on a Hill.'"
He is survived by his wife Matilda and their five children, which include CNN anchor Chris Cuomo, and current New York governor Andrew Cuomo, who was sworn into his second term hours before his father's death.
[h/t CNN]
[Image via American Spirit / Shutterstock.com]
—
>> Follow Tina Nguyen (@Tina_Nguyen) on Twitter
Have a tip we should know? tips@mediaite.com