Florida Police Chief Agrees George Zimmerman is Another 'Sandy Hook Waiting to Happen'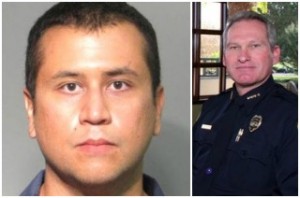 In a series of emails obtained by ThinkProgress, Police Chief Steve Bracknell appears to agree in a series of emails that Zimmerman is a "ticking time bomb" and another "Sandy Hook" or "Aurora" "waiting to happen." As the head of the Lake Mary Police Department, Bracknell is in charge of the Florida area where Zimmerman and his estranged wife currently live.
The chief reportedly confirmed the authenticity of the emails to ThinkProgress, which were sent in response to a concerned citizen named Santiago Rodiguez. Rodriquez initially wriote to Bracknell to express his disappointment in how the police department handled the recent domestic dispute between the man who was recently acquitted in the Trayvon Martin murder trial and wife Shellie Zimmerman. He angrily pointed to Zimmerman's "pattern" of "criminal history" and questioned why the department did not do more to lock him up.
Rodriquez ended his email by saying "Zimmerman is a Sandy Hook, Aurora waiting to happen," referring to the recent mass shootings in Connecticut and Colorado. He added, "your job is to protect the communities and and you are failing big time," and threatened to demand a Justice Department investigation into a potential "cover up."
Bracknell responded to the man's email with a meticulous list of answers to his specific questions, with one answer standing out for its frankness: "Your reference to Sandy Hook…. I agree."
Following his acquittal, Zimmerman is still permitted to carry a concealed permit in the state of Florida and just weeks after the trial ended was photographed shopping for a Kel-Tec KSG shotgun, made by the same manufacturer who produced the gun he used to shoot and kill Martin.
Read the full email exchange below:
Zimmerman Lake Mary Emails by ThinkProgress
[h/t and photos via ThinkProgress]
— —
>> Follow Matt Wilstein (@TheMattWilstein) on Twitter
Have a tip we should know? tips@mediaite.com