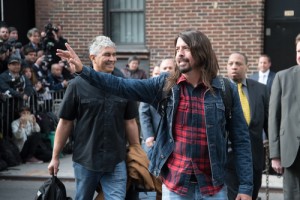 When he's not too busy trolling the Westboro Baptist Church and playing David Letterman's last show by request, Foo Fighters' frontman Dave Grohl tours the world playing rock 'n' roll.
You'd think that the former Nirvana drummer would want to take a break at some point. You know, to give himself some much-needed time off. We just didn't realize Grohl would interpret the word "break" literally.
But that's exactly what happened during the band's Friday night concert in Sweden, when Grohl dived off the stage and broke his leg. According to reports, Grohl actually finished the song he was playing before finally letting paramedics attend to his injuries. He then promised the crowd the band would return:
Grohl, who turned 46 in January, isn't necessarily a spry young man. But despite having just broken his leg (after taking a stage dive, no less), the rocker told the crowd he'd be back. He wasn't lying:
After drummer Taylor Hawkins entertained the crowd for awhile, Grohl returned to help the band finish the show — new leg cast and all.
The official Foo Fighters Twitter account later shared a photo of Grohl's X-ray, revealing just how bad the break was:
Thank you Gothenburg. That was amazing. pic.twitter.com/BXvuxIfVEv
— Foo Fighters (@foofighters) June 12, 2015
We were only joking when we said Grohl should run for office last year, but now? Maybe he should "wheelchair into office" instead.
[h/t Uproxx]
[Image via Shutterstock.com]
— —
>> Follow Andrew Husband (@AndrewHusband) on Twitter
Have a tip we should know? tips@mediaite.com