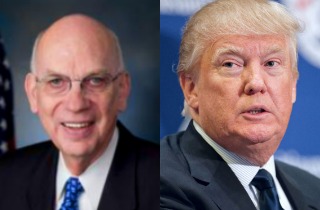 In the final days of his life, a former Utah senator expressed remorse for the fact that Donald Trump has risen to the top of his party.
Earlier this month, former Senator Bob Bennett (R-UT) lay paralyzed in George Washington University Hospital after his yearlong battle with pancreatic cancer was compounded with a stroke. The Daily Beast reported that Bennett had a private moment with his family during this time, and at one point he asked his son "Are there any Muslims in this hospital?'"
"I'd love to go up to every single one of them to thank them for being in this country, and apologize to them on behalf of the Republican Party for Donald Trump."
The Bennetts went on to describe how the former senator has been disturbed by Trump's rhetoric on various minority groups, and that he made outreach to Muslims a priority in the last several months. Bennett's wife Joyce described how he was so thoroughly disgusted by the idea of banning Muslims from the country that he would make an effort to tell any Muslim he encountered that he was glad to have them in America.
"In the last days of his life this was an issue that was pressing in his mind… disgust for Donald Trump's xenophobia," said Bennett's son Jim. "I think Trump's rise was really the motivation for him to recognize the importance of expressing his desire for inclusion. He just felt it was his responsibly to push back."
Bennett passed away on May 4.
[h/t NBC]
[Images via wikimedia / flickr]
— —
>> Follow Ken Meyer (@KenMeyer91) on Twitter
Have a tip we should know? tips@mediaite.com