Former Porn Star Sasha Grey Debunks Rumors She Was Killed by Ukrainian Soldiers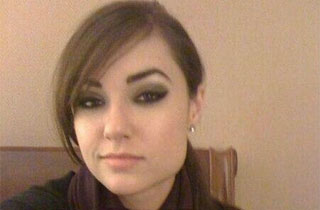 Yesterday, actress and former porn star Sasha Grey took to Twitter to address rumors that she was brutally and horrifically murdered by Ukrainian soldiers while serving as a battlefield nurse in Eastern Ukraine. (She is not a nurse, nor is she dead.)
The rumor spread after her image appeared on Russian social media, along with a fake name, "Sasha Serova," and a story about how she was a nurse who was captured by members of the Ukrainian military. In the post, which was shared more than 3,500 times, the soldiers filmed themselves "humiliating" her — a reference to her former career — "before chopping her body up with an ax," according to a translation of the post from The Moscow Times.
Considering that Sasha Grey is very much alive, your first instinct should be "this is a troll." And you're right! The post came out of an image board known as Dvach — basically, Eastern Europe's version of 4Chan — and was a test to see whether pro-separatist Russians were gullible enough to share social media stories confirming their beliefs about the moral depravity of Ukrainians, even if they displayed photos of famous porn stars, Ukrainian nationalists, or even notorious Nazi doctors. (According to Global Voices, they left hints of her actual identity: "Serova" is Russian for "grey," and the post itself contained "several sexually suggestive double entendres.")
Nevertheless, Grey, who is neither Ukrainian or Russian, angrily took to Twitter to debunk the rumors:
I <3 my Russian fans, but this propaganda takes it too far. News that I was a NURSE killed in the Russian/Ukraine conflict. #fuckpropoganda

— Sasha Grey (@SashaGrey) February 18, 2015
People are dying. People are losing family members & BS outlets mock the deceased with Fappery like this

— Sasha Grey (@SashaGrey) February 18, 2015
Just an FYI some other conservative propaganda outlet labeled me & other Russian artists as friends of the Hunta just last summer/fall.

— Sasha Grey (@SashaGrey) February 18, 2015
So to make it clear FIRST I was the ENEMY & now I'm a FRIEND because this was supposedly the fault of Ukrainians.

— Sasha Grey (@SashaGrey) February 18, 2015
Grey's referring to an earlier 2013 incident, where she tweeted "stay strong" to supporters of a coup that eventually overthrew the former pro-Russia prime minister of Ukraine, Victor Yanukovich. According to the Moscow Times, she was labeled as "pro-Western" by Russian bloggers, the same one who mourned her death at the hands of Ukrainian forces.
I have love & respect for all of my Russian & Ukrainian fans, I wish there was more I could do. #peace

— Sasha Grey (@SashaGrey) February 18, 2015
[h/t Luke Johnson]
[Image via Twitter/Sasha Grey]
—
>> Follow Tina Nguyen (@Tina_Nguyen) on Twitter
Have a tip we should know? tips@mediaite.com