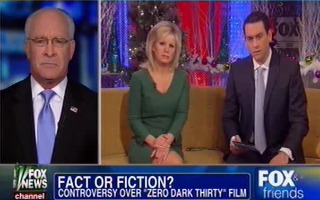 A frequent Fox News guest who claimed to have ties to the Central Intelligence Agency was arrested on Thursday and charged with lying about his supposed agency work.
According to the Huffington Post, Wayne Simmons — who was often identified as a "terrorism analyst" by Fox News — was indicted by a federal grand jury in connection to alleged misconduct, including making false statements to the government, major fraud and wire fraud. The 62-year-old often touted his CIA record on the cable news channel, claiming to have worked overseas for the agency as an "Outside Paramilitary Special Operations Officer" from 1973 to 2000.
According to a press release from the U.S. Attorney's office in the Eastern District of Virginia, Simmons "used that false claim in an attempt to obtain government security clearances and work as a defense contractor, including at one point successfully getting deployed overseas as an intelligence advisor to senior military personnel."
In addition, this isn't Simmons' first rodeo with the law. Court documents unsealed on Thursday reveal a "significant criminal history, including convictions for a crime of violence and firearms offenses." Because of this, he "is believed to have had an ongoing association with firearms notwithstanding those felony convictions."
Simmons was arrested on Thursday and appeared in court later that afternoon. If convicted of all three counts levied against him, he could face up to 35 years in prison.
From decrying the film Zero Dark Thirty for its excessive use of waterboarding as a form of torture because, in his words, "waterboarding is not torture," to calling President Obama a "novice" for not doing enough to capture Edward Snowden, Simmons has been all over the Fox News Channel and Fox News Radio network.
A FNC spokesperson told CNN that Simmons "was never a contributor for Fox News," but only an unpaid guest. Yet his visible record of appearances on the channel immediately calls this official statement into question, for not only was Simmons on FNC, but he was an oft-included "terrorism analyst" for related segments.
[h/t Huffington Post, CNN]
[Image via screengrab]
— —
>> Follow Andrew Husband (@AndrewHusband) on Twitter
Have a tip we should know? tips@mediaite.com