Fox News Sportscaster Jared Max Tells Mediaite Sports Coverage Today is 'A Very Fine Line to Walk'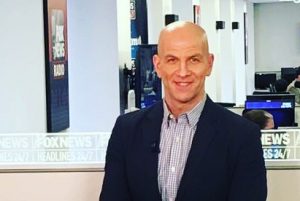 With the widespread Anthem protests dominating the national sports dialogue of late, Fox News sportscaster Jared Max has a very descriptive metaphor for what he feels sports watching has become.
The veteran broadcaster believes it's like "eating an ice cream cone that has kale and spinach in it."
Max was a fixture of New York City radio for nearly two decades before making the move to Fox News Headlines 24/7 — a SiriusXM channel on which he's served as lead sports reporter since its inception one year ago yesterday. In an interview with Mediaite on Thursday, Max recalled what a colleague experienced when the news on his beat become more dire, and related it to his experiences with sports today:
It reminds me of when the market started to crash years ago. A business reporter who I worked with finally opened up about it was really taking a toll on him having to report bad stories every day. And I really felt for him. And I got to really start to feel it myself…All of a sudden, I'm eating an ice cream cone that has kale and spinach in it. And I don't want that. Sports is our great escape.

When I first started in radio, I wrote up a sign and kept it in my studio. It said: "No race. No religion. No politics." Just a constant reminder: Don't go there. And all of a sudden, that has become so much of sports reporting. And it's a very fine line to walk.
Max questions why the serious issues of the day have entered the sports realm in the first place.
"I don't want to discredit or discount the importance of the matters that are being discussed," Max said. "I just don't know why they're being discussed in the sports arena."
As to where the Anthem protests go from here, Max pointed to the NFL's declining ratings through the first four weeks of the NFL season, as well as an ESPN Radio affiliate's decision not to broadcast this week's East Carolina football game because the station owner took offense to protests by the ECU marching band, and said he was curious what would happen following consumer pushback.
"What happens when fans say, 'You know what? We're not going to watch on TV…We're not going to pay to go to the game?'" Max said. "I think that's when you might start to see some changes made. Because nobody wants to take away somebody's American right to freedom of speech. But this is business. And it's complicated. We're all going through it for the first time."
And as far as what has Max's attention on-the-field at the moment, he pointed to a potential historic World Series match-up as something he'd like to see come to fruition.
"I hope to see a Chicago Cubs-Boston Red Sox World Series," Max said. "It'd be a treat to see what the ratings would be like."
For more of Max's work, check out Fox News Headlines 24/7, which can be heard on SiriusXM channel 115.
[image via Fox News]
–
Follow Joe DePaolo (@joe_depaolo) on Twitter
Have a tip we should know? tips@mediaite.com
Joe DePaolo - Senior Editor