Fox Reporter Jana Winter Hopes to Avoid Jail for Protecting Sources in Testimony Before NY Court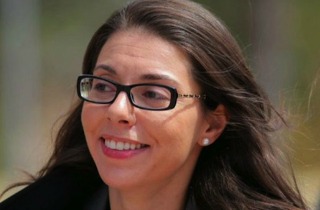 In 2012, Fox News reporter Jana Winter came under scrutiny from Colorado courts after she revealed in a report that she had access to a notebook that Aurora movie theater shooter James Holmes sent to his psychiatrist five days prior to his shooting rampage.
Winter will appear before a New York State Court of Appeals on Tuesday where she will argue that she should be protected from having to appear in Colorado where she may be ordered to reveal her sources.

RELATED: Judge Okays Effort To Subpoena Fox News Reporter In Aurora Shooter's Trial
Winter insists that she will protect the sources which allowed her access to Holmes' notebook, even if that means she could face jail time. Winter is appealing to the appeals court to overturn a lower court ruling which found in favor of Holmes' defense team and would compel her to travel to Colorado to testify and possibly face a contempt charge.
Holmes attorneys claim that Winter's source violated a gag order imposed on anyone with information relating to the shootings. Winter's defense insists that the New York court ignored the state's strict shield law, far stricter than Colorado's, which protects journalists from facing prison for refusing to reveal their sources.
"We are hoping that the high court will agree with our position that the subpoena should be quashed," Winter's lead attorney, Dori Ann Hanswirth, told Fox News. "What could happen to Jana in Colorado would never happen in New York."
In a report filed after the Aurora massacre, Winter reported on the notebook which an anonymous source told her was "full of details about how he was going to kill people."
"Among the images shown in the spiral-bound notebook's pages were gun-wielding stick figures blowing away other stick figures," Winter reported.
h/t Fox News
[Photo via FoxNews.com]
— —
> >Follow Noah Rothman (@NoahCRothman) on Twitter
Have a tip we should know? [email protected]