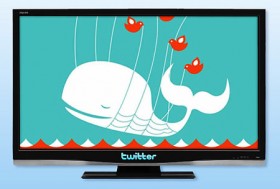 People like television, and people like Twitter, so what could possibly go wrong when you put a Twitter feed… on television? Quite a lot, apparently, if the feed is inane and uncoordinated and takes up a huge chunk of the screen.
To kick off their new seasons, Fox promoted their series "Glee" and "Fringe" with so-called "tweet-peats," in which they screened old episodes of each show while a feed that mixed cast members' and viewers' tweets played on.
Fox was apparently pretty jazzed about the idea. Here's an excerpt from their press release:
HOT FROM FOX…

HOW "TWEET" IT IS!

UNPRECEDENTED TWEET-PEATS OF "FRINGE" AND "GLEE" TO AIR THURSDAY, SEPTEMBER 3 AND FRIDAY, SEPTEMBER 4, ON FOX

Encore Broadcasts to Feature On-Screen Twitter Feeds by Cast and Producers

In a broadcast first, FOX is hosting two nights of on-screen Twitter updates with talent during special "tweet-peats" of FRINGE on Thursday, Sept. 3 (9:00-10:00 PM ET/PT) and GLEE on Friday, Sept. 4 (9:00-10:00 PM ET/PT). During the episodes, viewers will have the opportunity to follow the cast and producers' tweets both online via Twitter and on-air via a lower-third scroll. They will provide commentary about the episode, answer fan questions, reveal behind-the-scenes secrets and offer exclusive insights on the upcoming season.
Maybe a good idea on paper (?), but definitely not well-executed. The Twitter feed was big and distracting. This is what it looked actually like: (screengrab from Fringetelevision.com)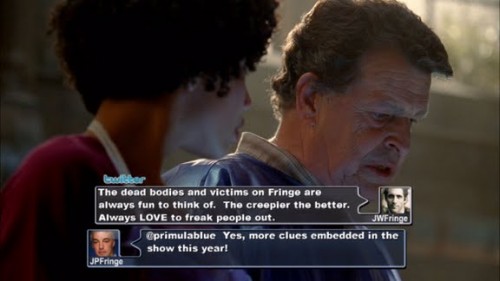 Yikes. I went through a number of message boards, comment pages, and fan sites for "Glee" and "Fringe," and I couldn't find one person who liked the feature. Here are a few responses:

(from Fox's Glee forum)

(From Fox's "Fringe" site c/o The AV Club)

(from the comments section of a MediaPost article on the promo)
Shoot me an irate comment if I missed a positive response, anywhere, but that is pretty harsh. As "TWEET" as they are, "Tweet-peats" are probably not going to make a comeback anytime soon after this. Hopefully someone at Fox didn't just get fired over this admittedly disastrous idea.
(h/t AV Club)
Have a tip we should know? tips@mediaite.com