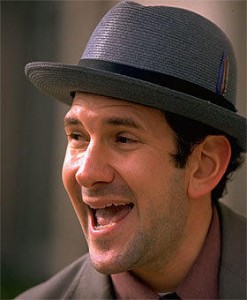 Yesterday, the New York Observer took their turn in the age-old tradition of reporting on Matt Drudge's demise. Every so often some editor or reporter notices a new sliver of damning (usually anecdotal) evidence, surely marking the end for the Drudge Report, and decides that this time it might just be enough to squash the seminal ring-wing news aggregator once and for all. But as a notable wordsmith once said, "The reports of my death are greatly exaggerated."
The last such report before this week's Observer piece might have been the most notable, and it occurred almost exactly one year ago — with Obama comfortably ahead in the polls — when Howard Kurtz of the Washington Post wondered in a column titled "The Drudge Retort" if Drudge still had "huge clout" or if his influence was "overstated." Always the trend piece killer, Slate's Jack Shafer decided to mitigate and debunked these claims in "Don't count Matt Drudge out," first by revealing the demise argument's straw man — Drudge was never as influential as his detractors say, according to Shafer — and then, by critically evaluating his strengths and weaknesses, but praising his longevity:
Drudge endures, while imitators and newly minted Web stars fade, for a variety of reasons. He works incredibly hard. He cares about his site. He appears to have no interest in working for somebody else, and his entrepreneurial vigor makes the site come alive.
In his column, Kurtz quoted heavily from Greg Sargent of Talking Points Memo, who had recently studied Drudge's stamp on cable news, concluding that his influence was declining. In his rebuttal, Shafer also cited recent Drudge critics like Media Matters and Chris Cillizza's The Fix, before giving a history lesson by digging up Frank Rich's 1999 claim that Drudge was history.
So one year later, what new evidence has the Observer introduced that could make this trend piece stick? The piece begins by acknowledging that the White House has kept an eye on Drudge, especially during the health care debate, citing the website's 1.1 million daily visitors "each of whom refresh the page about 15 times in a 24-hour period." But never discount opinions from established newspaper editors.
Peter Barker of the Washington Post and Jonathan Weisman of the Wall Street Journal don't read Drudge anymore! They prefer The Huffington Post. And Bill Keller of the New York Times says he hasn't heard anyone, anyone mention Drudge "in ages." Apparently to a journalist, when other more important journalists no longer care, then Drudge is done for, his influence squashed. And if he's not quite gone, there are quite a few question marks to indicate uncertainty: "Are the days of Drudge over? Has Matt Drudge lost his edge?" Just putting it out there!
"Maybe he was just a fad—digital-age hula hoop," says Keller. Ah, yes, the blog as a fad. Unfortunately, it's the kind of fad that began in 1997 and continues with almost no overhead costs and consistent readers.
To be sure, the Report could not exist without the mainstream media. And if Matt Drudge finally decides it's time to go on a permanent vacation, and his heart is just not in it anymore, then the Observer will have called it. But that gamble hardly seems worth a feature.
As for the sources so eager to pronounce the site dead, when you occupy the top spot, it's common to receive criticism from those gunning for you from below — it's called throwing rocks at the thrown. But it's always uncomfortable to watch Kings and Queens like the Times and Post aim their rocks downward in a defensive, knee-jerk fit. And over a decade later.
UPDATE: The Columbia Journalism Review has a new feature for September/October 2009 with a very similar thesis as the Observer's Drudge Report article this week. The piece, entitled "Drudge Has Lost His Touch" (no question mark), makes a much more elaborate and conceptual case that can be read here. Are you convinced by either of the latest entries in the Drudge Is Dead canon? Sound off in the comments.
Have a tip we should know? tips@mediaite.com