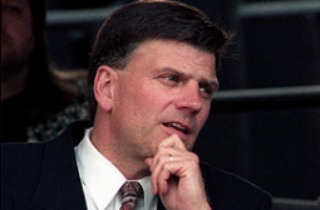 Evangelist pastor Franklin Graham asked his fellow Christians on June 5 to boycott LGBT-friendly companies in order "fight the tide of moral decay that is being crammed down our throats by big business, the media, and the gay & lesbian community." Graham decided to transfer the Billy Graham Evangelistic Association's accounts from Wells Fargo to BB&T, apparently not knowing that BB&T is a sponsor of gay pride events.
Graham's assertions of "moral decay" began with a Facebook post where he bashed companies like Fargo and Tiffany's for showing commercials that featured same-sex couples. "This is one way we as Christians can speak out — we have the power of choice," Graham wrote. In a Monday radio interview, Graham appeared to backtrack slightly by saying that he was not targeting companies that hire or serve LGBT people, insisting that instead his issue was with companies that use "shareholders' advertising dollars to promote…a godless lifestyle."
When Graham was picking a new bank, however, his research on the criteria might have been a bit lax.
BB&T received an 80 percent score in the Human Rights Campaign's Corporate Equality Index, and hosted a same-sex couple's wedding reception at it's Miami branch in February. The event was part of a fundraiser held in commemoration of the Legacy Couples program, established during Miami's 2009 gay pride parade in order to celebrate same-sex couples with a relationship of ten years or more.
"We support the individuals and organizations that broaden our perspectives and strengthen the diverse fabric of our communities," said BB&T's regional markets officer, Arthur Costa. "That's why BB&T is proud to be a part of this day of pride and celebration of the 2015 Legacy Couples."
[h/t Washington Post]
[Image via screengrab]
— —
>> Follow Ken Meyer (@KenMeyer91) on Twitter
Have a tip we should know? tips@mediaite.com