Gary Johnson Gave Another Foreign Policy Interview That's Causing People to Flip Out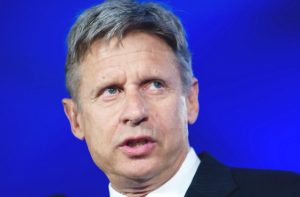 Libertarian presidential candidate Gary Johnson has had a rough couple of weeks over two foreign policy-focused questions. So he gave a foreign policy-focused interview to The New York Times and, um, it did not go well.
After his past gaffes of not knowing what Aleppo was or being able to name a foreign leader he likes, Johnson was asked by the Times about North Korea's leader. This is what happened next:
In the Times interview on Wednesday, Mr. Johnson conspicuously sought to avoid another misstep. Asked if he knew the name of North Korea's leader, Mr. Johnson replied, "I do."

"You want me to name" the person, he said, then paused, before adding dryly, "Really." But he declined to supply the name.
In addition to that, Johnson also said he sees a moral equivalence between U.S. killings overseas and what is being carried out under the brutal Syrian regime.
Johnson sarcastically said, "We're so much better when in Afghanistan, we bomb the hospital and 60 people are killed in the hospital."
He also complained about how Hillary Clinton gets credit because she "can dot the i's and cross the t's on geographic leaders, of the names of foreign leaders."
These answers did not inspire much confidence on Twitter:
You know who else is deplorable? Gary Johnson. https://t.co/ZkuwwLG8kZ

— Max Boot (@MaxBoot) October 6, 2016
Because when *we* kill someone we mean well, when *they* kill someone it's a crime against humanity https://t.co/GsyxiyIjPw

— Justin Raimondo (@JustinRaimondo) October 6, 2016
Gary Johnson, unable to name the leader of N Korea. Trump praises the leader of N Korea. Hillary knows how to handle the leader of N Korea.

— Emanuel Zbeda (@therealezway) October 6, 2016
Gary Johnson is officially off the list. My god. https://t.co/7bZOBKv4nW

— Tim Miller (@Timodc) October 6, 2016
Gary Johnson, call your office. Again.https://t.co/6MAanwoxXZ

— Chris Cillizza (@TheFix) October 6, 2016
Oh, for pete's sake

Also, link: https://t.co/RbiWvBc951 https://t.co/uBupHczoQH

— Abby D. Phillip (@abbydphillip) October 6, 2016
Syria and Gary Johnson, boy, I don't know https://t.co/cxfevRvaTT

— Patricia Mazzei (@PatriciaMazzei) October 6, 2016
Gary Johnson: Libertarian presidential candidate by day, in depth Asian political analyst by night https://t.co/WRkyaiF6Bs

— Edward-Isaac Dovere (@IsaacDovere) October 6, 2016
it's like gary johnson wants to out-uninform trump. never know, it just might be the right strategy to win this! https://t.co/txM5JLY1l7

— h. jon benjamin (@HJBenjamin) October 6, 2016
You can read the full Times interview here.
[image via Christopher Halloran/Shutterstock]
— —
Follow Josh Feldman on Twitter: @feldmaniac
Have a tip we should know? tips@mediaite.com
Josh Feldman - Senior Editor