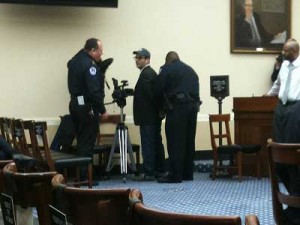 Academy Award-nominated environmental filmmaker Josh Fox was arrested Wednesday while he was setting up to film a House Science Committee hearing on water contamination from hydraulic fracturing for a new documentary, Politico's Talia Bufort reports.
Fox was forcibly removed from the hearing in handcuffs by Capitol police before the hearing could be gaveled into order. HuffPo reporter Zach Carter says Congressional Republicans ordered the filmmaker's ejection.
RELATED: Mike Gallagher Defends Keystone XL Pipeline: 'We're Just Polluting A Little Bit Of Water!'
According to the Greeley Gazette, the hearing was called by Republican Subcommittee Chairman Andy Harris, and was entitled "Fractured Science – Examining EPA's Approach to Ground Water Research: The Pavillion Analysis." The purpose of the hearing was — in the words of Western Energy Alliance's press release — investigating how "misinformation about hydraulic fracturing has caused local communities and citizens to fear a low-risk process."
EarthWork's Lauren Pagel reports Fox was "there to film the hearing for his upcoming film Gasland 2."
"I'm within my First Amendment rights, and I'm being taken out," Fox reportedly shouted as he was ejected from the hearing.
UPDATE: According to the AP, a statement released by the organizers of the hearing claimed the filmmaker did not have proper accreditation. "Personnel providing coverage by the television and radio media shall be currently accredited to the Radio and Television Correspondents' Galleries…The individual removed was not accredited by the House Radio and TV Gallery and had refused to turn off his camera upon request by Capitol Police."
UPDATE 2:Buford reports "Fox was charged with unlawful entry and released from police custody around 3pm. The filmmaker must appear in DC Superior Court on Feb. 15."
"There were no other broadcast journalists in the room," Fox told Buford. "We've taped public hearings across the U.S. for 3½ years. We've taped hundreds. This is public speech and it's protected — our ability to report on it is protected by the First Amendment. And they came to us and said, 'You're in violation of House rules.' I told them, 'You're in violation of the rules of the United States of America, which is the Constitution."

But Fox acknowledged there was a chance he'd be ejected.
"We wanted to cover the hearing," Fox said. "We didn't know what was going to happen. … We didn't have a guy in there. Also, I felt there was a threat we would get kicked out. And that's exactly what happened."
Fox will appear on MSNBC's The Ed Show exclusively at 8pm EST to give his side of the story.
Have a tip we should know? [email protected]