Gay Waitress Who Publicized Homophobic Note Is Habitual Liar, According to Friends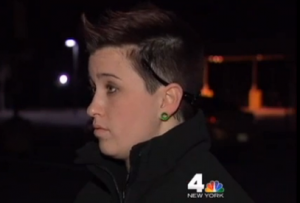 Dayna Morales, a gay restaurant server and former Marine, recently got national attention for claiming that she received a homophobic note instead of any tip from a couple at the New Jersey restaurant where she works. The couple in question came forward to dispute Morales' version of events, and now friends of Morales' are coming forward to claim that she is a habitual liar.


Morales has denied forging the receipt, but friends of hers are saying she has a history of stretching the truth, including some who shared details with The Daily Caller News Foundation.
"She said that her dad raped her and got her pregnant," [Kiersten] Bremer said. To account for the fact that she never had a child, Bremer said that Morales told her and other friends that she had cervical cancer which spread to her baby, killing it. She said Morales later admitted that she had made up the whole story…

Another ex-friend, Kristina Calamusa, shared similar stories with TheDCNF.

"Dayna took me to the side to tell me about her terminal cancer," Calamusa told TheDCNF in a Facebook interview. "Immediately I cried. I couldn't believe the news. About a month later we found out it was all a LIE."
Former colleagues of hers told The Journal News that Morales lied about how much her home was damaged by Superstorm Sandy, and then there's this follow-up about a claim she made that she served with the Marines in Afghanistan and "everyone in her platoon died in an explosion except her."
A spokesman for the Marines, Major Shawn Haney, said in an email that Morales… was assigned to the Marine Air Group 49, 4th Marine Air Wing out of Newburgh and deployed from April to June 2012 to Romania as part of the Black Sea Rotational Force 11.

"There is no indication of combat service in Iraq or Afghanistan," he added in a follow-up email. Also, "While (Morales) did not fulfill her reserve obligation, per the Privacy Act, administrative actions are not releasable. The same applies to character of service and type of discharge."
The restaurant where Morales works, Gallop Asian Bistro, has pledged they are investigating the matter to determine whether it was a hoax or not.
You can watch NBC New York's report on the controversy below:
[h/t Fox News]
[photo via screengrab]
— —
Follow Josh Feldman on Twitter: @feldmaniac
Have a tip we should know? [email protected]
Josh Feldman - Senior Editor