George Takei Claims His Trump Poll was 'Hijacked by Alt-Right Virgin Trolls'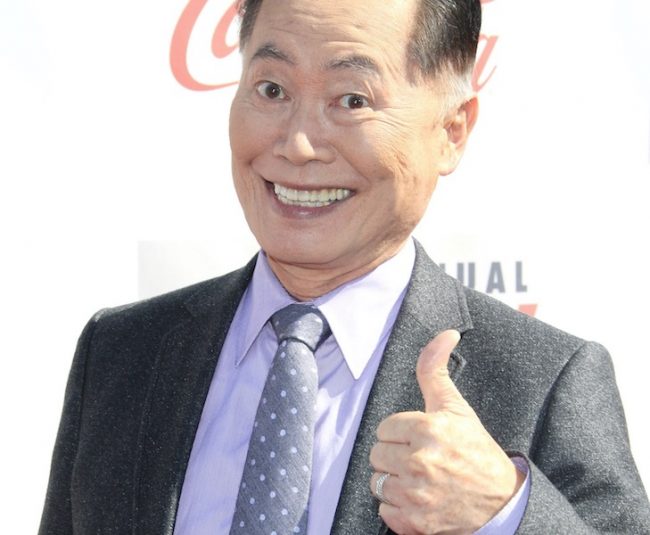 Twitter Polls are best used for things like figuring out what the best side is at Thanksgiving Dinner (stuffing) or how sick it would be if Dave Navaro were your father (hella sick). Twitter Polls are NOT best used for things relating to politics. Because the last election. Apparently everyone's favorite USS Enterprise helmsman George Takei didn't get that memo.
Saturday saw the outspoken liberal taking to the microblogging platform with a question for his followers: "Trump says the media is the true enemy of the American people. So lets take a poll. Who do you think does MORE HARM to the American people?" He provided two possible responses: "The 'un-fair' news media" or "President Donald Trump."
After a few hours and upwards of 70,000 votes, the results were (pretty surprisingly) neck-and-neck.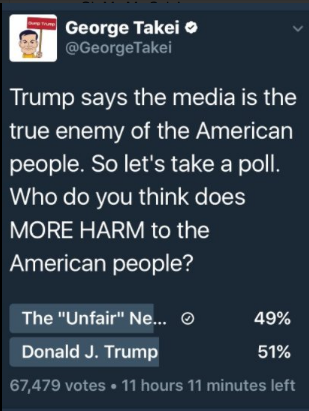 Displeased with those results (and what liberal wouldn't be?), Takei promptly deleted the post altogether. His followers took notice, and, jeez, they weren't happy.
George Takei gets mad and deletes poll because he knew it was showing a positive result of Trump.
Come on @GeorgeTakei play fair now.#Fact

— 0Hour1 (@Republican__Man) February 18, 2017
@GeorgeTakei Pretty pathetic that you put up a poll to bash Trump then delete the results when it doesn't go your way. Such dishonesty.

— Mike McQuerter (@MikeMcQuerter) February 19, 2017
@GeorgeTakei the irony that you took your media v trump poll down is even stronger

— Jonathan Notman (@jrnotman) February 20, 2017
George Takei made a poll asking who does more damage, the MSM or Trump but then deleted when MSM won.

Coward.

— ?? Chris Fannin (@cobaltkobra) February 18, 2017
Should @GeorgeTakei have Removed his Poll Because he didn't like the pro Trump results? Pls vote & RT#MyPlanetWouldHave ??

— Vegas4Trump (@trump2016fan) February 18, 2017
@GeorgeTakei @realDonaldTrump Why did Mr. Sulu ask us to take a poll who lies, Media or Trump, then delete because Trump won?Very dishonest!

— Joe Gelione (@jgelione) February 20, 2017
@GeorgeTakei You woke up this AM & saw your poll wasn't result you wanted & deleted it. Fortunately you libs can't do that to Trump's win.

— Ronin (@nbronin) February 18, 2017
Weird how as soon as your poll flipped in Trump's favor it got deleted from your twitter feed @GeorgeTakei. The truth hurts doesn't it! Ha! https://t.co/71ULAm5X7b

— Deplorable Rick ?? (@realestrickyro) February 18, 2017
@GeorgeTakei Fake Poll, Georgie. Trump has only been in office for 29 days. The MSM has been lying to us for decades.

— Ender (@NomDeVoyage1) February 18, 2017
After @GeorgeTakei's poll, I imagine if the Left organized liking of verified replies to Trump, Trump would have all six-figure like counts.

— Nuke Rusich (@NukeRusich) February 19, 2017
@sahouraxo George Takei thinks maybe if only Liberals took his poll, the result would be less favorable to @POTUS, blocks Trump supporters??

— Jane and the World (@JaneAndTheWorld) February 19, 2017
And just like Vanessa L. Williams, we went and saved the best for last:
Is Donald Trump the POTUS or is George Takei a Basic Bitch, who cancelled his Poll because it didn't go the way he wanted.

— Richard (@ukrichard1) February 19, 2017
Don't worry, this doesn't end there.
Takei would then try to put more of his foot in his mouth by tweeting the following: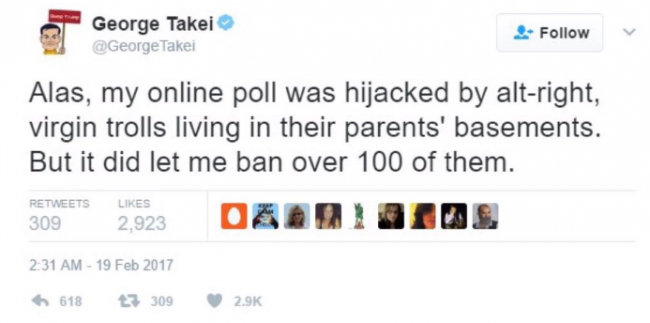 Sour grapes, sour grapes! In perhaps the smartest move in this odd social media chess game, Takei would delete this gem of Internet wisdom not long after it was posted.
Live long and prosper, Mr. Sulu; those alt-right, virgin trolls are coming for blood.
Have a tip we should know? tips@mediaite.com