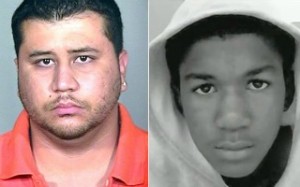 "You got me," were Trayvon Martin's last words, according to evidence released today that describes George Zimmerman's account of what happened that night. The written, video and audio accounts are consistent with what we've heard from him so far, but offered a more detailed look at his side of the story. Zimmerman told authorities that Martin attacked him, defending his claim that he acted in self-defense.
Zimmerman said he stepped out of the car to find a street sign so he could tell police his location. After told by the dispatcher not to pursue Martin, Zimmerman said, "As I headed back to my vehicle, the suspect emerged from the darkness and said 'you got a problem' [?] I said 'No.' The suspect said 'you do now.'" Martin then punched him in the face and knocked him to the ground, he said.
Zimmerman said he reached for his gun after Martin "took my head and slammed it against the concrete several times, and each time I thought my head was going to explode and I thought I was going to lose consciousness." He said that, during their struggle — in which "he tried to smother my mouth and my nose" — his firearm became exposed. At that point, he said he felt Martin's hand slide down in his chest, and Martin told him, "You're gonna die tonight, motherfucker."
"In fear for my life as he has assured me he was going to kill me," Zimmerman wrote he fired one shot into Martin's torso. Per the Orlando Sentinel:
According to his written statement, Zimmerman's bullet struck Trayvon in the torso and the teen sat back.

Zimmerman got on top of him to spread the teens hands away from his body and restrain him.

Trayvon allegedly said, "You got me," the statement said.
The evidence has been released by Zimmerman's lawyer Mark O'Mara, on Zimmerman's website www.gzlegalcase.com. Zimmerman is charged with second-degree murder, and has pled innocence, citing self-defense. Martin's family and supporters argue Zimmerman racially profiled Martin, who was unarmed.
Below is Zimmerman's written statement, which was among the released information:
George Zimmerman Written Statement
Have a tip we should know? tips@mediaite.com