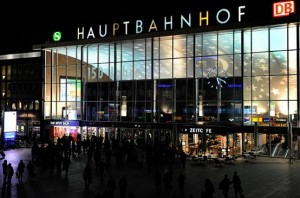 A major outrage is brewing in Germany after a massive gang of over a thousand men went on a crime spree on New Year's Eve, sexually assaulting, robbing, and even reportedly raping a woman in the city of Cologne.
German police denounced what they call "a completely new dimension of crime," and say that around 60 complaints have been filed, including one rape accusation. The BBC reports that one of the women who was sexually assaulted was a volunteer police officer, and that the gang seemed organized beforehand, "seemingly with the specific intention of carrying out attacks on women."
But what's sure to make the most waves is the description of the perpetrators. Police say the men were uniformly "of Arab or North African appearance."
To an even greater extent then the United States, Germany is in the midst of a massive debate over Muslim immigration and taking in Syrian refugees. Chancellor Angela Merkel has loudly and publicly welcomed refugees, even as public opposition within her country mounts. "You can expect right-wing groups to use that fact to say, 'See, we told you this would happen,'" lamented one German police union chief in an interview.
Another potential controversy is the allegations that the German media dragged its feet in covering the story, even as it blew up on social media. German paper of record Der Spiegel didn't cover the Cologne attacks until five days later, but is now covering the story on its front page.
[Image via screengrab]
——
>>Follow Alex Griswold (@HashtagGriswold) on Twitter
Have a tip we should know? tips@mediaite.com