Glenn Beck: 'Fall To Our Knees And Pray' Liberals Can't Link Fox News To Hacking Scandal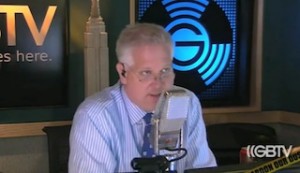 Glenn Beck tackled the News Corp. phone hacking scandal on his radio show today in an entertaining discussion that somehow managed to turn the death of the phone hacking whistleblower and unfair attacks on Fox News into a sarcastic conclusion that Vladimir Putin is actually behind it all and that GBTV might be the last hope for a truly free press.
Beck commenting on the curious and unfortunate death of the News of the World whistleblower:
"The whistleblower on the News Corp. thing – and I love this story – he woke up dead. And they're saying 'that it's not suspicious.' Ok, I'm not saying foul play was involved, but it is suspicious that he's dead. . . . Look when you have the Prime Minister, when you have the head of Scotland Yard, when you have the mayor of London, all of them involved in a scandal and you're the whistleblower – I think you're in poor health."
Beck and his crew were having a good time, but Beck got slightly more serious as he worried that if the News Corp. scandal keeps escalating it might reach his former employer, Fox News:
"May I say that we should all fall to our knees and pray that [the escalation of the News Corp. scandal] stops since that is the parent company of Fox News Channel . . . Pray that [Fox News cannot be linked to the phone hacking] and [that the Left's attacks on Fox News] are thwarted."
Beck was worried that if the Left can smear Fox enough, then the government might intervene in the press based on the justification that capitalism has run amok to ruin journalism. Even if that parade of horribles did occur, Beck suggests that now is the perfect time to subscribe to his new venture GBTV.
Yet by far, the most comical moment was Beck's legitimate outrage after hearing news reporters claim that the News Corp. scandal might be "spreading across the pond" from England to here in America. Beck wasn't as angry with the speculation, as much as he was upset with the need to correct everyone: "it's not a pond – it's an Ocean!"
Listen to the clip from The Glenn Beck Program below:

Have a tip we should know? tips@mediaite.com