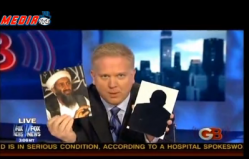 In case you ever wondered what it might be like to watch Glenn Beck cover a breaking news event, his reaction to today's Austin plane crash was a pretty good hint. Answer is: he didn't do too bad (all things considered), though, truth be told, I did spend the first fifteen minutes of his show holding my breath waiting for him to say something truly career-ending.
Instead, Beck railed against the violent actions of "someone we don't know very well, yet," pilot Joseph Stack who allegedly flew his plane into an Austin IRS office building, leaving behind both a manifesto and a suicide note. And he didn't mince words.
We have no idea what this man's ideology was…he could be from the left, he hates capitalism, he has an anti-business creed that goes on and on. It sounds like anything you could hear in a speech from Van Jones. When you read his anti-tax ravings and his anti-tax or IRS stuff it sounds like you could be reading bumper stickers off the cars or the signs of the Tea Party. We have no idea. But here's the point. I have no idea if he's left or right. Is he a communist or a radical constitutionalist. Here's the point: it doesn't matter. The guy is a killer.
Beck went on to compare Stack to Osama bin Laden and Timothy McVeigh and warned against rationalizing any of their actions: "I don't like the IRS either, but I don't kill people." Taken all together it sounded to me like a bit of a shot across the bow to anyone who wants to suggest Stack is representative of a larger disgruntled populous.
Later, Beck took to the chalkboard and came thisclose to suggesting that President Obama is very close to allowing radicals like Stack into his inner circle, though he did manage to note that Van Jones "hasn't killed anybody." He also emphatically suggested that the country needs to "get away from anybody who's calling for a revolution…whether it's a Tea Party revolution or a communist one." No more Tea Parties for Beck? Not sure I buy that, unless Stack's anti-government extreme put the scare in Beck (many would argue Beck has a 'chalkboard manifesto' of sorts…is he trying to distance himself?). It will be interesting to see how much of this "separation of radicals" is going to make it into his CPAC address this weekend. Video below.
Have a tip we should know? tips@mediaite.com