Glenn Beck To Rabbis: My New Iran Documentary Disproves Anti-Semitic Claims (Update)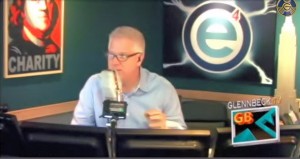 In response to the latest accusations that Glenn Beck uses harmful rhetoric, this time of the anti-semitic variety, Beck responded on his radio show that a just-released documentary he produced on the dangers of Iran, conclusively disproves any charges of anti-semitism against him.
First though his radio crew sarcastically joked that Beck only ever highlights Jewish people and purposely spells people's names wrong to make them more Jewish, which is just some of the criticism Beck has received. Beck laughed at how ridiculous these conspiracy theories are and encouraged his critics to start wearing tin foil hats. Instead he urged listeners to see a new documentary his media company produced called Rumors of War, a piece of journalism he compared as being on par with Frontline.
After seeing the documentary, Beck sidekick Stu Burguiere concluded about Beck, "for an anti-semite, you are really pro-Jew." And Beck thought the timing of the claim by rabbis against him was ironic and thought it "amazing how anti-semitic I am on the day that we release Rumors of War." Hmm . . . amazing or maybe just maybe, this is part of some type of grand conspiracy, one where the rabbis are helping to generate publicity for Beck's new project? Highly unlikely, but hatching conspiracy theories does seem fun.
Update: Fox News has responded to the initial critique from the Rabbi coalition in a statement:
The letter, addressed to News Corp. chairman Rupert Murdoch (see image here), requests that host Glenn Beck "be sanctioned by Fox News for his completely unacceptable attacks on a survivor of the Holocaust" — philanthropist and financier George Soros — and that Fox News chief executive "Roger Ailes apologize for his dismissive remarks about rabbis' sensitivity to how the Holocaust is used on the air." (News Corp. owns both Fox News and the Journal.)

In a statement provided to The Cutline, Joel Cheatwood, senior vice president of development for Fox News, said: "We haven't seen the ad, but this group is a George Soros backed left-wing political organization that has been trying to engage Glenn Beck primarily for publicity purposes."

The rabbi coalition's letter refers in part to Beck's Nov. 10, 2010 broadcast, part of a three-day series about the liberal billionaire. In that broadcast, Beck said that Soros, who lived apart from his parents in his early teens to avoid being apprehended by the Nazis, "used to go around with this anti-Semite and deliver papers to the Jews and confiscate their property and then ship them off. … It was frightening. Here's a Jewish boy helping send the Jews to the death camps." Soros, a Hungarian Jew, has spoken publicly about escaping the death camps by posing as a member of a Christian family. His protector's job was to confiscate property from Jews in Nazi-occupied Hungary.

The letter also states that Beck has made "literally hundreds of on-air references to the Holocaust and Nazis when characterizing people with whom [Beck] disagree[s]," and that he "routinely compares American leaders to Nazis."
Listen to the clip from The Glenn Beck Program below:

Check out the trailer for Beck's Iran Documentary Rumors of War below:


Have a tip we should know? tips@mediaite.com