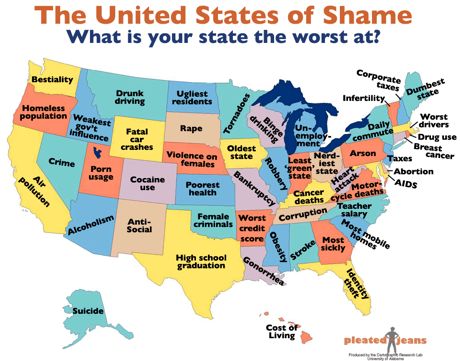 A map that declares what each state in the country is worst at has made its rounds this week, leaving many people across America wondering about their fellow citizens. Some states got off easy; after all, it's not so bad to be highlighted for having the highest cost of living, as Hawaii does. But other those who call Louisiana (the gonorrhea leader), Maine (the dumbest state), or Utah (porn capital of America) home seem to have some explaining to do. Here, a roundup of the opinion from writers around the nation defending their states:
Washington: "Assuming that you consider bestiality a bad thing," says Curtis Cartier in Seattle Weekly,  "critter-humping is apparently the Evergreen State's most embarrassing secret (though, really, it's not that secret)." There are countless examples to choose from. "Washington is steeped in man-on-beast history. Whether it's our defining shameful trademark seems a stretch. But it is what it is."
Minnesota: "Minnesota's claim to fame is….tornadoes? That's a bit of a stretch, but we did endure 104 tornado touchdowns in 2010, says Paul Douglas in the Minneapolis Star Tribune. "Every state has something to brag about, and something the local Chamber of Commerce wishes would just go away." We want to change the weather.
Ohio: "As far as having a black mark against it, Ohio could do worse than being the "nerdiest" state, a title which was arrived at because Ohio has the highest per capita library visits in America," says Vince Grzegorek at CleveScene.com.
New York: "Turns out we have the longest average daily commute (which we knew already)… and big deal, right? So we have to sit on the subway a little bit longer—it gives us time to catch up on this week's New Yorker, which is why we aren't the the dumbest state (hello, Maine)," says Jen Carlson at Gothamist.  Our "statistical skeleton" isn't anything to be ashamed of. "Way to go New York! See you on the late, overcrowded, overpriced subway later."
Missouri: If "every state has its Achilles' heel," says Mandy Oaklander in Kansas City's Pitch, then we got off easy. Missourians struggle with "keeping hold of its cash, as it has the highest bankruptcy rate" of any state. "We ain't got enough money. But there are worse things to be the worst at." At least we're not Iowa, or Kansas, or Oklahoma, or Illinois. "What's a little money mismanagement compared with our dying, sickly, criminal neighbors?"
Washington, D.C.: We're usually peeved for being left off of infographics, says Aaron Morrissey at DCist, but "in this case, D.C.'s exclusion might not be such a bad thing." It turns out, though, that "we're so bad" at so many things, we would have overtaken others states' marks. And then they would have been left without "something shameful." Excluding D.C. "did us a favor, I guess." It spreads the bad wealth.
Have a tip we should know? tips@mediaite.com