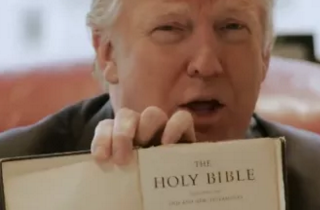 Remember when Donald Trump misquoted the Bible at Liberty University and a bunch of his supporters insisted it was because he was simply saying it the Irish way, like his devout Irish Catholic mother taught him to? Well, to excuse away this next ecclesiastical error, it's going to take a little bit more mental gymnastics than that. During a pre-caucus church visit in Iowa, Trump almost set money on the communion plate.
He later laughed it off, saying he had believed the plate was for the offering, though I don't quite understand how that happened. Did he see everyone else walking up and accepting crackers from the plate and decide to cover their tab? Was the plate out and about somewhere before the service started? Does Trump just set cash on every piece of flatware he sees?
The AP has answers, though they don't make much more sense. The plates were reportedly passed around for everyone to eat from during communion, which is a practice I haven't heard of before, though it didn't confuse Melania Trump or the two staffers who attended mass with the couple; all three of them took their communion from the plate. Even after witnessing them eat the host, Trump dug a few bills out of his pocket and almost set them on the plate. Once communion was over, he successfully placed the money in the correct dish.
Last July, Trump made statements about the eucharist to CNN when elaborating on his claim that he has never asked for forgiveness:
When I drink my little wine — which is about the only wine I drink — and have my little cracker, I guess that is a form of asking for forgiveness, and I do that as often as possible because I feel cleansed
He just forgot about his little cracker for a second this time.
[image via screengrab]
For more from Lindsey, follow her on Twitter.
Have a tip we should know? tips@mediaite.com