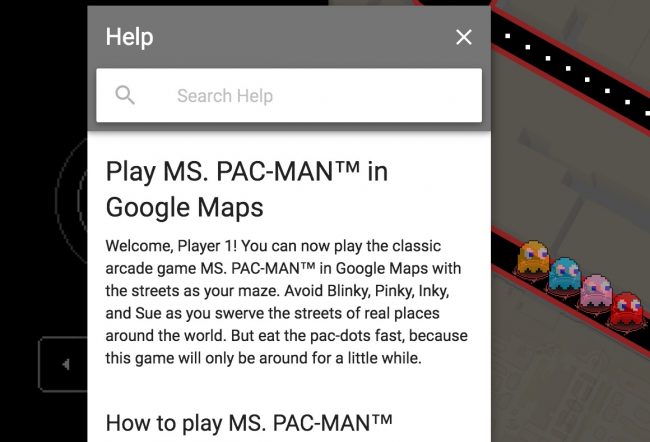 Get out your phone and open Google Maps!
Look! You can press on a little button that looks like Ms. Pac-Man and play, well, Ms. Pac-Man!
Thank Google for this updated version of their 2015 April Fools' Day prank, which transports Android users to a random location but does allow iPhone and desktop users to pick one. (Can you blame them for reusing an old idea when last year's Google prank went so badly?)
Central figures in news media took notice of this Friday afternoon fun, likely to their bosses' dismay.
!!!!! Open Google Maps on your phone.

h/t @chrisdonovan

— Bradd Jaffy (@BraddJaffy) March 31, 2017
What @KatyTurNBC script review becomes after learning @seanspicer has moved his daily briefing: pic.twitter.com/ZzoXAO3Vc2

— Omnika Thompson (@OThompsonMSNBC) March 31, 2017
Check it out: Google Maps has gone full Ms. Pac Man … April Fools? pic.twitter.com/xWuyeBkoNw

— scott budman (@scottbudman) March 31, 2017
Google Maps lets you play PacMan in the location of any city/town you want right now… pic.twitter.com/NYmRaKMRXo

— Jeff D Lowe (@JeffDLowe) March 31, 2017
Gotta love Google. The best April Fool's pranks. Check out maps today. Now I want a pretzel. $GOOGL pic.twitter.com/rO7qVhCetd

— Paul R. La Monica (@LaMonicaBuzz) March 31, 2017
Whoa, Google Maps is PacMan right now. I'm playing in what is usually midtown

(h/t @BraddJaffy) pic.twitter.com/yTIvC05xtd

— Steve Kopack (@SteveKopack) March 31, 2017
Well done @googlemaps pic.twitter.com/T5tL67gcUw

— Nick Corasaniti (@NYTnickc) March 31, 2017
Go have fun out (on?) there!
[image via screengrab]
——
Have a tip we should know? tips@mediaite.com