GOP Gov Candidate Fretted About Anti-Semitic Attacks Shortly Before Committing Suicide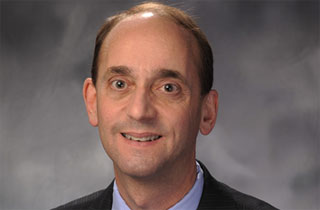 A leading GOP candidate in the upcoming Missouri governor's election was found dead in his home Thursday morning from an apparent suicide, and according to a regional paper, he claimed he'd been dogged by anti-Semitic remarks shortly before his death.
Tom Schweich, Missouri's Republican state auditor, allegedly shot himself in the head less than a month after the election cycle began. Minutes before his death, however, he'd requested an interview with the St. Louis Post-Dispatch, and according to the paper's editorial page director Tony Messenger, he'd wanted to talk about rumors — started, he believed, by Missouri GOP chairman John Hancock — claiming he was secretly Jewish:
In several conversations via text and phone in the days leading up to Thursday morning, Schweich told Messenger that Hancock mentioned to people in passing that Schweich was Jewish. Schweich wasn't Jewish. He was a member of the Church of St. Michael & St. George, an Episcopal congregation in Clayton.

Schweich told Messenger he believed the mentions of his faith heritage were intended to harm him politically in a gubernatorial primary in which many Republican voters are evangelical Christians. He said his grandfather was Jewish, and that he was "very proud of his connection to the Jewish faith."

"He said his grandfather taught him to never allow any anti-Semitism go unpunished, no matter how slight," Messenger said in a written statement.

Schweich told Messenger that he attempted to ask Sen. Roy Blunt to intervene but was unable to speak with him. Schweich said he had lunch with Blunt's son, lobbyist Andy Blunt, according to Messenger's account.
Hancock told reporters that while he may have mistakenly thought Schweich was Jewish at one point, he "certainly would not have said it in a derogatory manner."
"[Schweich] told me he was aware I had made anti-Semitic remarks and I told him it was not true," Hancock said, recalling a phone conversation between the two, and added that he'd heard Schweich was about to cite his alleged remarks in a press conference, which never took place.
"This whole thing doesn't make any sense," Hancock told the Post-Dispatch. "Three months of allegations about me that are not true don't make any sense. Suicide doesn't make any sense. It is a tragedy."
[h/t TPM]
[Image via Missouri State Auditor's Office]
— —
>> Follow Tina Nguyen (@Tina_Nguyen) on Twitter
Have a tip we should know? tips@mediaite.com