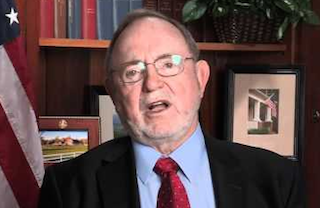 Alaska's 81-year-old Republican Rep. Don Young issued an apology this week after appearing at a Wasilla High School assembly and telling students they may be to blame for the suicide of a classmate who killed themselves just days earlier.
According to a report from the Alaska Dispatch News, Congressman Young answered a question from a teacher about Alaska's high suicide rate by saying it is often caused by a lack of support from family and friends.
"When I heard 'a lack of support from family' and I heard 'a lack of support from friends,' I felt the oxygen go out of the room, but I gasped as well," Principal Amy Spargo said of Young's comments. "It just isn't true in these situations. It's just such a hurtful thing to say."
When one student reportedly responded by shouting that the student in question had friends and support, and that suicide is a mental illness, Young replied, "Well, what, do you just go to the doctor and get diagnosed with suicide?"
In an email to the Alaska paper, spokesman Matt Shuckerow delivered the following statement:
"Congressman Young was very serious and forthright when discussing the issue of suicide, in part because of the high number of tragedies that affect Alaskan youth. He discussed what he believes are leading causes of youth suicide in our state and shared some suggestions for helping family members and friends who are dealing with suicidal thoughts. In no way did Congressman Young mean to upset anyone with his well-intentioned message. In light of the tragic events affecting the Wasilla High School community, he should have taken a much more sensitive approach."
The article also states that Young used profanity and brought up "bull sex" when confronted with a question about same-sex marriage.
[h/t DailyKos]
[Photo via screengrab]
— —
>> Follow Matt Wilstein (@TheMattWilstein) on Twitter
Have a tip we should know? tips@mediaite.com